ANDRÉ LODEMANN Presents VEHEMENCE OF SILENCE EP Digital
---
CAT No VIEW005
BUY NOW in our SHOP – Also available as LIMITED EDITION Vinyl 12″
A&R by Dairmount | Graphics by Hannes Piltz / INTU | Artwork Picture by Nicolo Lanfranchi
---
Click the LOGOS below to DIRECTLY BUY the release in the following primary digital shops
---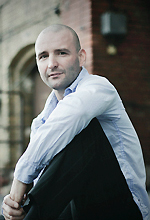 "It took me only a few minutes to realise that André is one of these rare individuals that make you feel instantly "at home"… I understood quickly then that the music I discovered earlier on labels like Moods & Groove or Simple, was a real mirror of his soul…"
It is indeed on a cold day of that 2008 Berlin autumn that André & myself had a tea time & decided to work together. André decided spontaneously to record fresh material especially for the label, more than 6 months before our first release. This says a lot about the common trust that was born that day, much before the hype surrounded the man.
The result of this saw the light some weeks later in the form of Vehemence Of Silence, a track of indeniable power which breathes long years of djing & Berlin afterhours as much as uncovering close impressions of André's emotional outcome. This is what made me feel that track like a whisper to my body & soul and what makes me so proud to release it today… More than 10 months down the line, André improved it, tested it on the floor till a final club listening session in the middle of the Berghain dancefloor where we both knew it was ready to be shared…
This special track needed of course outstanding alternative perspectives and it didn't take me long to propose my old friends Martin Iveson & Danilo Plessow (both amongst André's favorites) to give it their magic : Atjazz managed to bring the track in subtle afro territories twisted with early Prescription echoes while Motor City Drum Ensemble's version translates an unexpected Techno jam reminiscent of the best early Soma days. The EP is completed by a fantastic dub by André himself and a second original called Dark Edge, a sophisticated & raw deep house joint.
A&R and words by Dairmount
---
SELECTED SALES FACTS
André Lodemann is one of the rising German producers of 2009. After releasing already on Mark Grant's Moods & Grooves and Will Saul's Simple, André created this year Best Works, his own imprint with Daniel Best.
André released 3EP's on Best Works which were received with huge acclaim from every side including the hit " Where Are You Now?" that hit club charts worldwide. The track is one of the most important summer anthems of 2009.
André turned highly demanded in recent times : a full Ep will be released this autumn on Freerange and he recorded remixes for established labels such as Shield's Rebirth, Joey Negro's Z Records, Dj Yellow's Composite & Dark Esser's Wolfskuil
An exclusive new track of André will be included on the third episode of Dairmount's Perspectives serie end of october
Atjazz is one of the most respected long runners of the House scene since the early nineties. After closing down his legendary Mantis label early this year, he created his own Atjazz Record Company to focus on his output & made several remarkable appearance this year on OM, Papa, DSOH or Yoruba with solid remix works.
Motor City Drum Ensemble is one of the most in demand German producers of our times. Thanks to his blend of moody Detroit influences and fresh " b boy" sampling attitude, Danilo Plessow took the world by storm the last 18 months with featured works on his own MCDE & Four Roses, 2020 Vision, Mule Musiq or Quintessentials. 2009 will see him remixing heavyweights like Steve Bug for Pokerflat, Dj T for Get Physical or Jazzanova for Verve…
Stay Optimistic, an exclusive new track of MCDE featuring Nu Soul sensation Stee Downes, will be released in october as part of the 3rd volume of Dairmount's Perspectives serie.

---

WHAT DJ'S SAY…

" Another brilliant EP from RWAV. This is left of centre electronic dance that's helping push things forward whilst paying so many respects to the past. I think the Brighter Day dub is my fave here but all tracks will definitely be getting plenty of plays. Atjazz bangs it especially! "
JIMPSTER (Freerange)
" Lodemann is quickly becoming one of my favorite artists. This track is incredible! Has such emotion… and those claps! And such great remixers to compliment this work. Best of the best here… 5/5 easy…"
ALLAND BYALLO (Nightlight Music, Utensil)
" Lodemann is pretty mind blowing. I love how this track progresses, and the way all the percussions play off eachother toward the end of this song. Great work! " – PEZZNER (OM Records, Physical Graffiti, Freerange)
" You guys are killin it. Another top release!" – BASIC SOUL UNIT (Philpot, Still Music, Versatile)
" MCDE mix is fantastic " – TREVOR JACKSON (Playgroup, The Gossip, Kitsune, Output, K7)
" Atjazz mix is lovely. Brighter day dub good too " – MARK FARINA (OM Records)
" Atjazz & MCDE Mixes for me…" – MANUEL TUR (Freerange, Ovum)
" Serious stuff here …Maximum support one this EP! " – MASTER H (Soma, Komplex De Deep)
" Really like the original version a lot and will def play it on the show…" – ANDREW JERVIS (Ubiquity)
" Great EP – love it! Some of my favourite producers get to remix Andre's tasteful original and what comes out is twisted b-boy house, just the way we like it! " – ALEX DALLAS (Drumpoet)
" Very awesome! This track will be responsable for many epic moments on the dancefloor…" – SIAN (Aus)
" Realy love the original mix will play a lot…" – LAURENT GARNIER (FCom, Pias)
" Lodemann, the man of the trips! Diggin the original and loving the Atjazz remix!" – LARS BEHRENROTH (DSOH)
" The Atjazz mix is fab (as always) and Dark Edge got that smooth'n'sexy deep touch…hot! " – MAD MATS (Raw Fusion)
" Awesome tunes !!!!! full support ! " – DJ HELL (Gigolo)
" Top marks for another brilliant release. Minimal cinemtaic excellence with a big clap.." – SKI OAKENFUL (Primaudial)
" What a fantastic release!!! Spiritual deeper than deepness….. and with a brighter version depending on which mood i'm in. Mr Lodemann is for me one of the biggest talents out there right now and with Atjazz adding his shuffled shakers and stabs of epic win"
ANDREAS SAAG (RWAV, Freerange)
" Really like 'Dark Edge', fabulous track! RWAV come up with another winner! "
NEIL QUIGLEY (Urbantorque)
" This is a good release. Supervalue !" – ALEX BARCK (Jazzanova, Sonar Kollektiv)
" It's been a long time since i liked 5 tracks on one ep. this is awesome. simply can't pick a favourite. can't remember myself giving a 5/5 before either " – RUSS GABRIEL (Ferox, Mobilee)
" A beautiful package all in all, I really love the original and the Atjazz Perspective sounds great for lazy summer days. MCDE manages to top everything again though with this deep and melancholic MONSTER. I'd tick 2 hearts for that one! " – DEETRON (Music Man)
" Awesome EP. hard to pick up one track here !! i would say my favourite versions are original and MCDE "
ART OF TONES (RWAV, 2020 Vision)
" Real cool 8t house groove!" – GILB'R (Chateau Flight, Versatile, Innervisions)
" The Atjazz mix is beaitiful. I love it…" – ROCKY (Xpress 2)
" a brighter day dub is the one for me. mcde perspective points it my way too… " – VIDIS (Silence Music)
" The Atjazz + MCDE mixes are my favourites… " – THE REVENGE (Delusions Of Grandeur, Jisco)
" Love the MCDE remix…" – TIM SWEENEY (Beats In Space)
" This one sounds awesome!" – STEVE MIZEK (Little White Earbuds)
" High quality music as ever from andre " – CHARLES WEBSTER (Defected, Miso)
" Superb EP. All tracks sound fat. Like the original, Dark Edge and the Atjazz Remix. Good work! " – JC FREAKS (Phonica)
" very phat and deep package, the motor city drum ensamble and the atjazz perspectives are the two mixes for me… "
MARLOW (RWAV, Objektivity, Moon Harbour)
" All these mixes are great especially loving the MCDE mix " – HARRI (Subclub Glasgow)
" Like the whole package, especially the original & the mcde version. thanx, will play! " – WESTPARK UNIT (Farside)
" Another great release. Liking the Atjazz and Original Mix of Vehemence Of Silence. Keep them coming .."
SHELDON PRINCE (Traxsource)
" Very nice – mellow house – good remixes – original strong.." – SLAM (Soma)
" like the dub mix. very nice. will play it…" – KAROTTE (Cocoon Club)
" Another fantastic release on RWAV! Andre has an incredible sound & I love the way his trax can suddenly take a turn into the unexpected, as he does on the original. All the remixes sound great as well & Dark Edge is probably the track I will end playing most, but time will tell… " – DARKO ESSER (Wolfskuil)
" RWAV does it again! Our favorite new label in the shop doesn't dissapoint. Atjazz and MCDE's remixes are the standouts! "
DERON DELGADO (Stompy)
" Respect to André. Great works in the last days. I love this release. Great remixes from Danilo and Martin. Today my favourite is Atjazz point of view " – NACHO VELASCO (Garito Café)
" Outstanding Ep . This Is Quality ! " – CHRIS UDOH aka WAMDUE KIDS
" wow, what a package! great artists, great label! " – BENNY RODRIGUES
" Fantastic. Love André…" – IGOR (Ibiza Sonica)
" Amazing remix coming from Atjazz, can't wait to play this on my show! Much respect from Western Australia "
PAUL GAMBLIN (RTRFM 92.1 Western Australia)
" Nice collection of songs and styles.I like the Atjazz remix the most and "Dark Edge".Will play it for sure. Thank you so much! "
WILLIE GRAFF (Freerange, Cielo NYC)
" Quaity release, all tracks are very useable, Atjazz remix comes out tops for me, but all in all very good stuff "
LEIGH MORGAN (Urbantorque)
" MCDE Mix is killer!!!! " – YANNICK LABBE aka TRICKSKI
" Loads of quality stuff on here, love the remixes but this little gem at the end is the one for me. Acid, soulful yet shuffly, it's got a lot going for it! " – DOMU (Trebleo, Papa, 1Extra)
" Lodemanns dubmix is fantastic, sthe groove on Atjazz mix is suuuuper, as always with RWAV it is all top top quality, what can i say – full support! " – CHRISTOFFER BERG (My Sonic Mountain)
" Atjazz Perspective!!! deep 'n dope! " – GERD / LITERON (4Lux, Fortek)
" All about the MCDE mix here, another deadly addition to his recent purple patch " – CHRIS DUCKENFIELD (Swag, Odori)
" Oh damn! Atjazz is on some other shit that i need to get on!Love the remix by atjazz.Its going right into front of my cdbook!" – TRINIDADIAN DEEP (Prescription Future Vision)
" I´m a big fan of Lodemann! Once again a truly original deepster. Cool release! My fave is the original but i think i will be playing the others also " – ROBERTO RODRIGUEZ (Frozen North, Freerange)
" Love the original dub & AtJazz remix, MCDE remix too, all the mix are great anyway ! Dark Edge is dope too ! wow ! these chords ! " FABRICE LIG (Third Ear)
" Top quality stuff as usual from Room With A View ! My favourites here are MCDE and Atjazz Remixes. Will be playing a lot "
NACHO MARCO (Loudeast, Pacha)
" Can't go wrong with Lodemann & atjazz in the same pack. I'm full on with you guys!" – DJ YELLOW (Poussez, Saw, Ovum, Composite)
" Good release! especially the two rmx`s by Atjazz & MCDE are great!" – LIAPIN (Connect Four, Outils Du Connaisseur)
" Dis is soooo fucking biig!Oh my daaaaaayz can't wait 2 drop that ! ! ! Lodeman is sick… Remixes r DOPE too , chartin/playin 4 sho'" SIMBAD (BBE, Still Music, Raw Fusion)
" Sounds more the soulpatrol box way than his recent best works output. martin has done a brilliant job as well "
MICHAEL RUTTEN (Soulpatrol)
" AtJazz totaly rocks it. my favorite without a doubt! "
NITZAN HERMON (Fine Art)
" Just SUPER – all the mixes are HOT…..Lovin' it!" – BROTHERS VIBE
" The Dub is sick! Lovin it!" – ONIONZ
" Best release so far!!! Original version is really a good piece of art! " – JOEL ALTER (RWAV, Gigolo)
" Honestly i think the original is really boring and thats why even my favourite artists at the moment like atjazz and mcde couldnt deliver anything spectacuar too. no points from me this time. It doesnt reach the really high standart of the releases so far "
LOVEBIRDS (Freerange, Winding Road, Buzzin Fly)
" I'm going for the Motor City Drum Ensemble remix and the Dark Edge track but this whole release is just pure class! "
SWIRL PEOPLE (Aroma)
" MCDE remix is full of Juicey Goodness. Spot on! " – JAMES HUXLEY (Pulse radio Sydney)
" Quality as we come to expect from RWAV " – SHUR-I-KAN (Freerange, Dark Energy)

Also loved & played by Sasse, Dixon, Fred Everything, Agnès, Steve Sole, Nick V, Michael Reinboth, Nick Holder, Cloud, Trevor Walker, Andrei Peev, Murray Richardson, Jon Freer …

---

MEDIA

High resolution covers and press pictures are available for download in our MEDIA SECTION. If you don't have the password so far CONTACT US with detailed information about your magazine or website and activity. Thx.

---

---

ESSENTIAL INFOS & LINKS:

General infos about our artists | label | catalogue

All enquiries : general | booking | order records & merchandise

Our graphics and website are produced by INTU Services
Our mastering is carefully done by Calyx Mastering

---