ART BLEEK Presents FUTURE MEMORY EP Vinyl 12″
---
CAT No VIEW004-12
BUY NOW in our SHOP – Also available as Digital EP
A&R by Dairmount | Graphics by Hannes Piltz / INTU | Artwork Picture by Sophie
---
Click the LOGOS below to DIRECTLY BUY the release in the following primary record shops
---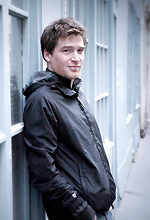 Like most of our artists, the young French producer ART BLEEK shares a rich musical background strongly rooted in the Black Music family tree & explores electronic club music through a unique touch & vision. Early noticed by DAIRMOUNT for his releases on labels such as Loungin, Rushhour, Connaisseur or Resopal, it was a logical step to ask Arthur to provide his own dimension of our "Room With A View".
The fruit of this is born as FUTURE MEMORY, a catchy & haunting Deep House number recorded as a dual voice experience with his lady Sophie on a summer day.The track manages to mix a very unique flavor of melancholy with a twisted pop appeal and subtle "Detroit" influences. With its nostalgic childish-like chorus & melody, the track is bound to stay in your head for a while…
The first alternative perspective of the track is given by uprising Scottish prodigy SEI A who made big waves already with his work on Buzzin Fly, Missive, Tronicsole & his own Seinan Music imprint. Andy captures the melancholic soul of the track to flip it in a driving spooky floor monster. Definitely one of his best remixes to date…
JOEL ALTER, Swedish hotshot & one of the main recording artists of our label, noticed already for his work on Gigolo & M_nus, provides a "straight forward kickin' ass" Techno rendition of the track keeping it deep & hypnotic. Imagine this on the Berghain system in Berlin and you'll come close of the devastating effect the mix can have…
And finally, IRON & WOOD closes the EP with a heavy dosis of funkiness & minimalism showing another "facette" of the talent of Arthur.
---
SELECTED SALES FACTS
Since 2006, Art Bleek released several EP's on respected labels such as Rushhour, Connaisseur, Resopal, Night Drive Music or Loungin
Art Bleek's second full length is due this year on Loungin after the critical acclaim of his debut Between Yesterday & Tomorrow in 2006
Sei A is considered by many as one of the best upcoming producers in the scene and has made his mark already on labels such as Buzzin Fly, Missive, Imprimé, Tronicsole or Urbantorque
Joel Alter is one of the core artists of the label. He will appear on the Perspectives 02 this summer and will release his first EP on RWAV in autumn 09. Joel released already on DJ Hell's Gigolo & Hawtin's M_nus
3 exclusive tracks of Art Bleek will be released alongside this release included in special digital editions on iTunes, Beatport & Traxsource

---

WHAT DJ'S SAY…

"Wow! The Sei A remix is SLAMMIN'! Will be charted and rocked like crazy. Also liking the vibe on "Iron and Wood"
TITONTON DUVANTE (Palette)
"This is cool! The original of Future Memory is the one for me. It is nice and pretty" – ALEX FROM TOKYO (Innervisions)
"The original is a delight. Been a fan of Art Bleek for a while. Full support" – WILL SAUL (Simple, Aus)
"Really great release, original is beautiful and sei a's mix is top notch!" – SHUR-I-KAN (Freerange, Urbantorque)
" Joel Alter is the One for me. Even though Sei A's is mentaaaal! " – ALEX KID (Imprimé, Cadenza, Rekids)
"Good set of mixes here. still, it's the original that does it for me. perfect for the summery vibes…" – PHONOGENIC (Cocoon, Moodmusic)
"The Sei A Perspective Mix is absolutely great, will play for sure!" – DEETRON (Music Man)
" With a so serious bunch of tracks like this is really hard to pick a favourite, different styles for different sets, but all great tracks, so playable for me. My full support to Roomwav once again" – NACHO MARCO (OM Records, Loudeast)
"Big up, love this label, full support from DJmag. Sei A is a favourite too, so couldn't get much better!" – BEN MURPHY (Dj mag)
"Love Art Bleek's stuff – particulary like Iron + Wood on this one …" – THE REVENGE (Delusions Of Grandeur)
" This is super hot!" – CHRIS UDOH (Wamdue Kids)
"It's all about Future Memory original and Sei A mixes. Wonderful stuff!" – ALLAND BYALLO (Utensil)
"Very, very good release!! I am really impressed by all 4 tracks… Also really like the diversity in sounds, from raw techno to moody deep techsersizes! Keep up the good work, I am becoming a fan…" – DARKO ESSER (Wolfskuil)
"I really like the Joel Alter version of Future Memory with its boldness topped by eurphoric and aerial cymbals. I would also like the Sei A remix, for its groove (a drummer's delight) and melodic qualities if there wasn't this vocal that reminds me of Mylène Farmer's Maman A Tort…"
ST PLOMB (Mental Groove)
"Sounds good. i like the Sei A Rmx and the original, especially the twisted beats and the deep harmonies! A Dub would be great too!" – ALEX DALLAS (Drumpoet)
"Another excellent rwav release! love the sei a & joel alter perspectives" – TECHNASIA
"Iron & Wood is a crazy & freaky track the way I like…" – Dj YELLOW (Composite, Ovum)
"Iron and wood is a huge. mesmerizing and groovy track. love it. diggin the original version of future memory aswell"
ART OF TONES (2020 Vision, Room With A View)
"Again a nice release!I am not into the vocals but musically all tracks are great. love the sound of the original of future memory. would be great to have an instrumental… I like the broken beats at the end. the remixes sound great as well… "
ANDRE LODEMANN (Best Works, Room With A View)
"Future Memory" is awesome" – YANNICK (Needs Music)
"Outstanding,love this original vocal,just superb" – SIAN (Aus)
"Original for me. nice and deep!" – MOTORCITYSOUL (Freerange, Aus)
"Another fantastic release on RWAV.. Loving the Sei A mix! Iron & Wood is beautiful too…" – SKI OAKENFUL (Primaudial)
"Great 12″. Like all versions…" – PETER KRUDER (Gigolo)
"Iron and Wood, my kind of experimental Techno/House/Soul. Hypnotic, well produced and not at all boring! Nice work! "
DOMU (1xtra, Papa, TrebleO)
"Loving future memory. sei a mix for me. top stuff." – MARCUS JAMES (Renaissance)
"Fantastic! love it. sei a is favourite… " – MARKUS ENOCHSON
"I'll play Iron & Wood out the most! Nice use of the 'Beau Mot Plage' sound in a 2009 fashion." – SWIRL PEOPLE (Aroma)
"Nice EP! The original is very interesting and the Joel Alter remix is heavy! Great Stuff!" – QUARION (Drumpoet, Retreat)
"Joel Alter mix is nuts – crazy crazy cymbols. Awesome!" – ONIONZ (Urbantorque, CR2)

Also loved & played by Benny Rodriguez, Andreas Saag, Laurent Garnier, Patrick Chardronnet, Atjazz, Leigh Morgan, Agnès, Trevor Walker, Harri, Andrei Peev, Patrick Balzat, Slam, Sei A, Murray Richardson, Afrilounge, Rob Mello, Nils Krogh, Chymera, …

---

MEDIA

High resolution covers and press pictures are available for download in our MEDIA SECTION. If you don't have the password so far CONTACT US with detailed information about your magazine or website and activity. Thx.

---

---

ESSENTIAL INFOS & LINKS:

General infos about our artists | label | catalogue

All enquiries : general | booking | order records & merchandise

Our graphics and websites are produced by INTU Services
Our mastering is carefully done by Calyx Mastering

---