JOEL ALTER Presents OMERTA EP Digital
---
CAT No VIEW006
BUY NOW in our SHOP
Also available as LIMITED EDITION Vinyl 12″
A&R by Dairmount | Graphics by Hannes Piltz / INTU | Artwork Picture by Fubbi.com
---
Click the LOGOS below to DIRECTLY BUY the release in the following primary digital shops
---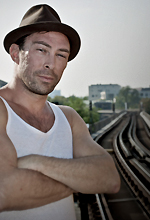 "Our ways crossed 3 years ago during one of my stay in Gothenburg", remembers Dairmount about his first meeting with Joel Alter. "Our common friend Christoffer Berg introduced us and we spent a very chilled summer day together, discussing & listening to some of his works in progress. I brought back some of them on a cdr and this was the start of an artistic exchange that shaped up in the years following… It was always clear to me that Joel was a personality I would be happy to introduce to listeners the day I would found my own label…"
Despite the fact that Alter has been one of the main underdogs of the Swedish Techno scene, he has never been interested to take part to the ego cult of the global Techno planet. He took care of shaping his sound on a long period of time, eventually catching the attention of Dj Hell & Richie Hawtin who both released some of his works on their Gigolo & M_nus imprints & relocated in Berlin in search of fresh inspiration.
"What fascinated me very quickly with Joel is how his music embodies the bare essentials of the Techno spirit. He lives & breathes this music nearly as a spiritual experience" claims enthusiastically Dairmount. "it was really important to me to bring him to display the genuine soul of his Techno vision & to develop the tracks that were displaying this unique contrast of organic & mechanical values…"
Dairmount's aim has been to bring an homogenic collection of tunes showing perfectly the strong emotional versatility of Alter and his outstanding science of the dancefloor : Omerta displays a unique energy & bounce while exploring dubby territories. A dub factor raising high with the haunting Preaching To The Choir and the disturbing Alley Cat, both exploring sounds with depth & determination. The secret weapon of this EP is definitely the African influenced cut called Jungle Fever that seems to be tailor made to fit Sirs Villalobos & Luciano's sets.
A&R and words by Dairmount
---
WHAT DJ'S SAY…
"Joel has been a friend and favourite for years, love all his stuff, these tracks are a very cool selection! Jungle Fever and Preaching to th Choir are my favourites. The matureness in the rythms Joel beats out are just amazing! He's destined for greatness!"
CHRISTOFFER BERG (Fever Ray, Flash, Neoboyz)
"very much like Preaching to the choir original. Make me think a bit of GMan. Will play!" – ESTROE (Connaisseur)
"Alley Cat and Preaching To The Choir are my favorites here. Will play this…"
PETER KRUDER (Macro, Gigolo)
"All the tracks come from a well thought perspective. Will play both versions of Preaching…." – AUDIO SOUL PROJECT (Fresh Meat, NRK)
"Alexkid remix rawks, nice nice niiiiice !" – SASSE (Mood Music, RWAV)
"great overall EP. omerta & alley cat are my favs" – TECHNASIA
"jungle fever is my fave!" – DIRT CREW
"Really like Omerta, nice shuffle techno track ! really like all the tracks and will play these on radio ! great e.p !"
FABRICE LIG (Third Ear)
"Another beautiful RWAV release. To be honest, I love all of the tracks except for Omerta. Just not my thing, but the rest are immaculate. Nice work from Alex on remix, as usual! Will play and support!"
ALLAND BYALLO (Kontrol)
"Preaching To the Choir is hot!" – DJULZ (Ovum, Bassculture)
"Fantastic EP! Really can't pick a favourite track. All 5 are top for me"
SEI A (Seinan Music, Missive, Gigolo)
"Forward thinking as always. Digging Alley Cat the most here. Alex Kid's mix is very nice as well."
PEZZNER (OM Records)
"The title track is a banger. Love the groove. This will be charted and played!"
TITONTON DUVANTE (Palette)
"A very interesting package… again, quality can not be question on this label but maybe lacking a tiny bit of soul for my ears overall… alley cat has an adictive groove and i will be supporting jungle fever 100%. great!"
ATJAZZ (ARC, Yoruba)
"Very diverse sound which I really enjoy playing Excellent ep ! Omerta remids me of cajaul records circa 1996 lovely!"
WAMDUE KIDZ (Strictly Rhythm)
"Jungle fever & preaching to the choir are great…will def play this.. "
DJ YELLOW / MINDZ KONTROL ULTRA (Composite, Freerange)
"Wow what a great EP from Joel! Awesome sounds and grooves. Will pick Preching to the choir as my favorite. Mindbending!"
CLOUD (Exceptional)
" Love the deep moodiness of the ep. Another quality release from "Room with a view" and a nice one to wrap up 2009. Congratulations on your releases this year!"
TREVOR WALKER (Mercury Lounge)
"Yes, yes, yes! Cool EP. Loving Jungle Feaver! Others are great too"
ROBERTO RODRIGUEZ (Frozen North)
"Great tracks, love joel alter!" – DAVE VEGA (Robert Johnson, Beatport)
"Love this great EP! Every track really rocks! Full support around the planet"
KIKKO SOLARIS (Persistencebit)
"Nice ep, not my favourite RoomWAV release – although i loved Joel Alter's Control on the last Perspectives. Jungle Fever, with its funky drums and gloomy chords, is my favourite here, and alex did a great job on the 'preaching to the choir' remix."
ART OF TONES (RWAV, 2020 Vision)
"Ohh yeah Jungle Fever and Preaching to the Choir For me ….Will play those for sure ,really nice…"
MASTER H (Soma, Komplex De Deep)
"Diggin' both mixes of "Preaching". The stereo bass on "Omerta" just puts my head in" – PHONOGENIC (Cocoon, 2020 Vision)
"Wicked Alexkid remix!" – ANTHONY COLLINS (Freak'n'Chic)
"My favs here would be Alley Cat and Jungle Fever…"
BASIC SOUL UNIT (New Kanada, Philpot)
"Alley cat and alexkid's remix are for me!" – BRENDON MOELLER (Wave Music, Connaisseur, Echospace)
"Absolut heavy stuff here. Great sound. All mixes are dope. "Jungle Fever" and "Preaching To The Choir" are my favs here…"
WENER NIEDERMEIER (JC Freaks, Supplement Facts, Phonica)
" Deep, stripped down, and groovy. What else could you expect? Into the box…"
VIDIS (Silence Music)
"Full quality release as usual from Room With A View. Loving the dubby vibe of "Preaching the choir", original and Alex Kid remix are great…"
NACHO MARCO (Loudeast, OM Records, Plastic People)
"Once again a solid release. Preaching To The Choir is my fave. will play for sure. alex kid remix is nice as well…"
ANDRÉ LODEMANN (Best Works, RWAV, Freerange)
"What a nice package!!!! Like all the cuts,really deep and Jazzy Detroit. Omerta is a winner! 100% support from the Bay .."
AL VELILLA (OM Records)
"Loving Alley Cat – will try and include in the November Freerange show" – MATT MASTERS (Freerange)
"Nice stuff as always from this great new label, Omerta is my pick!"
LEIGH MORGAN (Urbantorque)
Also played by Mandy, Dubfire, Slam, Russ Gabriel, Morpheus, Neil Quigley, Mr Mönk, Murray Richardson, Alex Barck…
---
MEDIA
High resolution covers and press pictures are available for download in our MEDIA SECTION. If you don't have the password so far CONTACT US with detailed information about your magazine or website and activity. Thx.
---

---
ESSENTIAL INFOS & LINKS:
General infos about our artists | label | catalogue
All enquiries : general | booking | order records & merchandise
Our graphics and website are produced by INTU Services
Our mastering is carefully done by Calyx Mastering
---