BASIC SOUL UNIT Presents MIDNIGHT RIDIM EP
---
CAT No VIEW009 / AVAILABLE in our SHOP
A&R by Dairmount | Graphics & Artwork picture by Hannes Piltz / INTU
---
Click the LOGOS below to DIRECTLY BUY the release in the following primary digital shops
---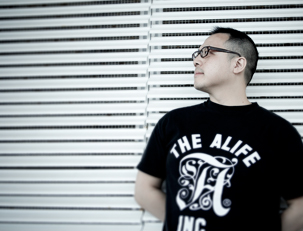 We are truly honored to welcome Toronto's Stuart Li in the Room With A View family with this monster 3 tracker.
It has been years I'm tracking every move of the man since his early steps on John Kong's Jazz flavoured Do Right imprint or his first EP's on other Canadian homes of quality as Iwanai and Left Of The Dial till his recent spectacular appearances on Dolly and Crème Organisation.
Stuart teased the interest of some of the most prestigious A&R's of the leftfield electronic scene : Paris' Versatile, Stuttgart's Philpot, Tokyo's Mule or Berlin's Ostgut Ton have all been charmed by his unique signature deeply connected with the original sound of classic labels as Trax, DJ International, KMS, Nervous, Strictly Rhythm & Nu Groove…
It happened quite naturally that Stuart's hybrid, futuristic & rooted work found his way through the RWAV cosmos and these 3 tracks have been shaped & selected carefully to represent closely this highly personal sound travel between past, present & future.
---
WHAT DJ's & MEDIA SAY…
"Wicked, this is a 100% feature in the Killers section!"
DJ MAG
"Bedroom Blues is just amazing, can't wait to play this!! Midnight Ridim is a beauty as well"
DEETRON
"Im a big fan of Stuart`s music and this record is great as usual! Monster kick drums and music with spirit! thank you so much for sending it!"
KINK
"Sick sick sick raw shit love everything BSU produces!"
TREVOR JACKSON
"Stuart in top form!"
CHATEAU FLIGHT /GILB'R
"Great release"
SHIT ROBOT
"Another great EP from stuart. go go !"
MUGWUMP
"Stunning deepness"
MAD MATS
"solid stuff as usual"
MANUEL TUR
"Inspiring stuff here! Bedroom Blues stands out to me but they're all great"
PEZZNER
"Big fan of everything that is Basic Soul Unit! This off course being no exception, awesome release, one of my fav from RWAV so far. And that says a lot in my case"
DARKO ESSER
"RUFF!. Liking the 12 bit vibe. Hard to pick between In the Trunk and the Detroit vibes on Bedroom Blue"
HIRO
"Bedroom Blues is great – raw Detroit in outer space"
FISH GO DEEP
"Bedroom Blues is the best track by far"
XPRESS 2
"Bedroom Blues is a great tune!"
AGNES
"all tracks rawks !!"
SASSE
"Bedroom Blues is lovely track!"
NICOLAS MATAR
"been waiting for a long time for this…"
DE:BUG MAG
"Love BSU and love this release. Full support. Bedroom Blues will be getting lots of action"
PULSE RADIO
"Love Stuart's music.This is a great release!"
WILLIE GRAFF
"In The Trunk. What a builder! def. gonna work people . Midnight Ridim is dark . love this shit! really feeling the stoned piano on Bedroom Blues .. dope fuckin' release!"
LARS BEHRENROTH
"Absolutely amazing E.P. I love it! In the trunk is my favourite, but it´s all very solid…"
JOEL ALTER
"In my case ! Full support!"
NACHO MARCO
"Big fan of basic soul unit for years. another killer here! best RWAV for me!"G
GERD
"Bedroom Blues – yeah man!"
BROTHERS VIBE
"Very great stuff, but "bedroom blues" is the one for me…"
MARLOW
"Even though this ep is not as close to my stuff as most of all the other rwav releases i feel the rare soulful attitude behind these traxx. especially "in the trunk" and "midnight ridim" teach and preach in a very sym.path.iq way. if more producers would add some these ingredients to their tunes i would like "techno" in general way more"
M PATH IQ
"Midnight Ridim is sick"
FLORIAN KRUSE
"Nice one… Really into Basic Soul Unit for a while now, and it's not the easiest tracks to play in a club, but this is definitely quality music…"
ART OF TONES
"Warm, chunky hand-made goodness. Lovely"
DEEPCHILD
"As you said a monster ep, there is something special on each track which makes me like all of them, im supporting Stuart's music since i heard his frist ep on Versatile, still playing it some times, great to hear he is improving and producing great tracks all the time "
KIKO NAVARRO
"That's my Stuart Li! Vintage BSU – dark, deep and timeless techno fusion!"
BEYOND JAZZ
"Great stuff!"
GROOVE MAGAZINE
" nice breakdown in In The Trunk…"
TRUS'ME
"Love all three tracks, and I can only hope there will be a vinyl edition of this one… Music as raw as this should not be condemned to a sad digital-only life!"
RED D
"Interesting grooves – downtempo techno soul!"
SLAM
"Top notch. Love BSU's stripped back, raw sound. "In The Trunk" reminds me of Anthony Shakir's "Fake Left Go Right Plan" i.e. fucking weird + dope!"
JUNO RECORDS
"Deep, soul full house with a twist!"
STOMPY
"Nice n raw!"
FUNK D VOID
---
MEDIA
High resolution covers and press pictures are available for download in our MEDIA SECTION. If you don't have the password so far CONTACT US with detailed information about your magazine or website and activity. Thx.
---

---
ESSENTIAL INFOS & LINKS:
General infos about our artists | label | catalogue
All enquiries : general | booking | order records & merchandise
Our graphics and website are produced by INTU Services
Our mastering is carefully done by Calyx Mastering
---