DAIRMOUNT & BERARDI Presents LOVE UNLTD EP
---
CAT No VIEW012 / AVAILABLE in our SHOP
A&R by Dairmount / Artwork by Metronomic Family
---
Click the LOGOS below to DIRECTLY BUY the release in the following primary digital shops
---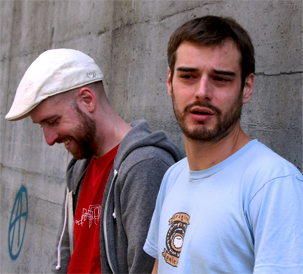 Following the warm welcome of their tracks Omni, Static Off & Bass-Ment tale (released in 2009 on the label) and their widely acclaimed remixes of André Lodemann & Atjazz earlier this year, label ambassador and A&R Dairmount & his partner in crime Marino Berardi have signed here a sampladelic effort with this 3 tracker.
Summing up together more than 40 years of djing, it is no surprise that they chosed to dig deep in their vinyl collections to realise these 3 different views of the same raw sampled material. The guys have always counted in their followers, people as diverse as Jimpster, Trevor Jackson, Carl Craig, Mazi or Danny Krivit and this EP keep its promises with their trademark sound : moody chords, unexpected break, sloppy drum programming, catchy gimmicks & a serious sense of climax…
Be prepared to hear more about these guys in early 2011 with forthcoming remixes of Feygin on Composite, Master-H on Komplex De Deep or Audio Soul Project on Fresh Meat…
---
WHAT DJ's SAY…
" Serious quality! 4AM is my fave!"
JIMPSTER / Freerange
"Fantastic EP! Really impressed …"
NICK WARREN / Bedrock
"6AM is quality classy house. 6AM mix takes me back on time to Nothingham DYE Collective, Simon DK, but really up to date"
JOSE PADILLA / Café Del Mar
"Lovely track lovely build up lovely vibe!! this is what i need!"
ANDREAS SAAG / RWAV, Freerange, Rebirth
"Total killer EP! The 3 mixes are top… 6AM & 4AM will played in my show for sure!"
DJ YELLOW / Composite, Rebirth
"very good e.p. on my lovely homelabel. this tune is my fav"
PASKAL / RWAV, Wildtrackin
"Very nice EP!"
ANTHONY COLLINS / Freak'n'Chic
"6 am. thats how i like it. great track."
FRANKLIN DE COSTA / Einsmusik, Connaisseur
"Serious deep and twisted late night stuff, my favourite is 4AM"
NACHO MARCO / Om Records. Loudeast
"Tracks are dope, good job…"
HIRO / Sole Music
"6 a.m mix is my fave!"
CHARLES WEBSTER / Miso, Defected
"Really diggin the new release, both 2 am and 6 am! nice chords…."
RAINER TRÜBY / Compost
"Sounds great Phil. Love them lofi beats. The 2AM mix works best for me"
FISH GO DEEP / Go Deep
"Serious Production here,will play,chart and hammer…"
MASTER-H / Komplex De Deep, Soma
" Really love the 4am mix. Will play this slick piece of high quality house music as often as possible!"
ALLAND BYALLO / Liebe Detail, Pokerflat
"Very cool smokey release. Lovely rawness. All 3 versions are great but 2AM tops it for me. Smooth all the way!"
ROBERTO RODRIGUEZ / Compost, Wave
"Very nice deep shit right here. Faves seem to be 2AM and 6AM"
PHONOGENIC / Mood Music, Cocoon
"Wicked release really!"
MARTIN NOWAKOWSKI / Pet Sounds, RWAV
"Feeling The Vibe @ 4am big Time !!!"
CHRIS UDOH / Wamdue Kidz
"4AM is quality!"
MATT MASTERS / Freerange
"4am & 6am we're the cuts for me, will support on the show"
LEIGH MORGAN / Urbantorque
"Dope tracks…best in while from u'r end. Will spin this weekend if u hit me up with 320s!"
MAD MATS / Raw Fusion
"great beats! feeling this, and nice mixture with the dramatic chords, want this, please send wavs of all mixes"
KIKO NAVARRO / OM Records, SSOH / SPA
---
MEDIA
High resolution covers and press pictures are available for download in our MEDIA SECTION. If you don't have the password so far CONTACT US with detailed information about your magazine or website and activity. Thx.
---

---