MARINO BERARDI Presents BEST INTENTION EP
---
CAT No VIEW007
BUY NOW in our SHOP
A&R by Dairmount | Graphics & Artwork picture by Hannes Piltz / INTU
---
Click the LOGOS below to DIRECTLY BUY the release in the following primary digital shops
---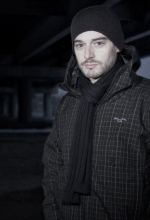 It is a genuine pleasure for me to open 2010 with a solo release of my close friend & studio partner MARINO BERARDI, as I got the chance to follow his musical path for more than a decade now…
Many dj's graced us of overwhelming feedback about our recent common output as DAIRMOUNT & BERARDI in 2009 but very few people know that Marino was one of the very first European producers to appear on prestigious American labels such as Francois Kevorkian's Wave Music or Josh Wink's Ovum…
In the fast moving scenes of today, Marino could appear as a "veteran" with more than 15 years of djing & production under his belt and he looks firmly firmly ready to push things forward in 2010.
Best Intention is one of these special joints that seem made to spice up your sets for the right moment. At the intersection of quirky Deep House & Dub Techno boundaries, the track reveals the underlying power of dusty samples to create an 11 minutes hypnosis that will surprise you by its uplifting virtues.
I fell in love instantly with the track the first time Marino played me the demo version and I knew that it would become a very unique dancefloor moment for the ones among us liking it dirty, moody & dubby.
It is always very important to provide interesting "perspectives" of an exciting original work and the 2 gentlemen that reworked Best Intention didn't fail to deliver excellent personal versions.
DAVE PEZZNER, the Seattle sound wizard recognised for his work on Freerange, OM Records or Ghostly International, signed what he declared himself as " one of his most intimate re-interpretations to date". For me, this amazing 10 minutes version is close to the fantasy of a late night lullaby that could have been composed collectively by Steve Reich, Morgan Geist & Charles Webster.
The second perspective is coming courtesy of CHRISTO, a new talent from Derby, discovered by Atjazz. The man is planned for promising things this year with a release on RWAV and the launch of his own Superficially Deep imprint very soon.
His version remains closer of the spirit of the original while giving it a warm techy edge.
A&R and words by Dairmount
---
WHAT DJ'S SAY…
" This Pezzner RMX is simply off the hook! And it seems neverending…thankfully! Original is great too, especially into the raw beats there"
DEETRON
" Wicked EP. Fell in love with both marino's original version and pezzner remix. So many brilliant producers name crossing my mind while listening to the tracks (pépé bradock, herbert…), yet it sounds inimitable and unique. Taking my hat off to mr.berardi."
ART OF TONES
" All traxx are very cool.. Something for everyone.."
CHARLES WEBSTER
" this is a very good release. deep and moody!"
DIRT CREW
" Original is great! look fwd to playing out & listening more…"
TREVOR JACKSON
" All good – Christo mix works best for me . . ."
BROTHERS VIBE
" Interesting stuff! I like the depth in the sound.. Well done!"
JORIS VOORN
" wow .. really nice ep. hard to tell but on first listen the Christo perspective inches ahead "
CHYMERA
" Thats a special release – love it! "
FLORIAN KRUSE
" All three productions sit together perfectly, Love the original' Clunk, Pezzner's dreamy wash & Christo's techy jack. A great overall piece of art! "
ATJAZZ
" WOW. I'm absolutely feeling this joint. Absolute Freshness and Warm elements blended together with Nordic sounds, Really deeply feeling this"
BODDHI SATVA
" I like the whola atmosphere of this ep! The Christo mix is the best playable option for me. "
SECRET CINEMA
" Very nice trax – love the original "
SLAM
" wow amazing , really like this, top drawer!"
MILTON JACKSON
" Incredible package. The Original is just lovely Detroit influenced deepness. Pezzne's remix is great as well, Really ambitious remix. Christo ain't bad either. Love it!"
PHONOGENIC
" 5 stars for the pezzner mix! absolutely stunning and killer awesome .. only thing im missing is a proper kickdrum! "
LOVEBIRDS
" A thought provoking original, technically interesting Christo remix but it's the chords in Pezzner's remix that win me over. Good all round "
AUDIO SOUL PROJECT
" Still carry Marino's "PLan B" in my record box today, glad to hear some new material from him. Feeling the original and Pezzner take "
FUNK D VOID
" Another beauty from RWAV. Absolutely love all versions, but the Christo in particular is tailor made for my sets. Top, top stuff! "
NEIL QUIGLEY
" Great great release! Love all the mixes… "
SHUR-I-KAN
" Great Pezzner remix "
ANTHONY COLLINS
" RWAV was one of my favorite labels of 2009 .. You guys released amazing music! And it seems that the year is starting pretty nice too… Love all mixes… Will definitely support this release through my gigs and radioshows… "
DJ YELLOW
" Very good package….All mixes are great! Will defo play…Well done once again! "
MASTER H
" Excellent material here.. My pick is Pezzner mix but all are good "
NICK WARREN
" Ouch! A seriously musical escapade from the Pezzner. What a deep and mesmerising epic of a track. excellent stuff "
JIMPSTER
" Great track and good remixes, though I prefer the original!"
JOEL ALTER
" Nice smooth & deep stuff!"
BASIC SOUL UNIT
" 3 great pieces of deep music, excellent!"
MICHEL DE HEY
" Good to see marino back on the scene, used to collect his stuff around 2000! Really like this original track too, very nice atmosphere "
MANUEL TUR
" What a way to start the year! All 3 mixes are ace, will play all of them!"
DARKO ESSER
" ill at home and this makes me feel better! The original and the Christo perspective are the best ones for me! great job again…"
GERD
" The original is the one for me…"
ANDRÉ LODEMANN
" Superb ! Love the original & Pezzner mix!"
FABRICE LIG aka SOUL DESIGNER
" Wow, love the deep smokiness of the orig particularly in the final third. Pezzner gets better and better, this being the playable mix for me. Christo bit mad for me but still pleasurable "
HIRO
" i like the deep melancholy of the original and also the very deep interpretation of this melancholy in the Pezzner perspective.Full support!"
MARLOW
---
MEDIA
High resolution covers and press pictures are available for download in our MEDIA SECTION. If you don't have the password so far CONTACT US with detailed information about your magazine or website and activity. Thx.
---

---
ESSENTIAL INFOS & LINKS:
General infos about our artists | label | catalogue
All enquiries : general | booking | order records & merchandise
Our graphics and website are produced by INTU Services
Our mastering is carefully done by Calyx Mastering
---