MARLOW Presents PUT OFF EP
---
CAT No VIEW013 / AVAILABLE** in our SHOP
A&R by Dairmount / Artwork by Metronomic Family
** This beautiful EP is available as a hand numbered ultra limited cd edition of 200, conceived & realised by Marlow himself.
---
Click the LOGOS below to DIRECTLY BUY the release in the following primary digital shops
---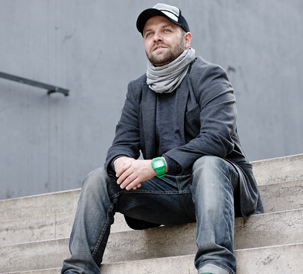 I discovered Marlow 10 years ago when he was one of the main artists of Leipzig's Moon Harbour and always appreciated his unique sense of deepness. This is what brought me to invite him to take part to the RWAV adventure one year & a half ago, when the label was not even started.
Marlow has been one of the first artists to join the label family and the vision of this very personal EP has been a long time in shaping. In between, he recorded the remarkable Fonk & Digga tracks for our Perspective serie in 2009 and released Look Over Feel feat Mo'Joe on Dennis Ferrer's Objektivity. He recently produced an exclusive track called Donny at the request of Matthias Tanzmann to take part to the 10th year birthday compilation of Moon Harbour.
In my eyes, there is no doubt that Marlow is still a huge and pretty underrated talent and I'm positive that this EP will make him justice considering the strong personality contained in every of these tracks and the world class production they display. Being a big Black Music lover, it has been a very natural development for him to dig in his vinyl collection to find the cohesion of mood on this EP, tainted of dusty Soul vinyls.
Being a man of collaboration (on production duties for the Pentatones & Matthias Kaden's full length), it has been no surprise to see him bringing his friends ComixXx & Knixx for a little dance. The title track Put Off is a perfect example of this and My Little Acid Sheep is the result of a spontaneous late night jam in Berlin in ComixXx's bedroom lab. Fans of Slomo House will be delighted to discover So What that proved to be a secret weapon already in the box of Jimpster and The Revenge to name a few.
---
WHAT DJ's SAY…
"Another stellar release from RWAV. This label has become one of my favourites since the start and not one of the releases have left my record bag since I've started playing them. It's quite rare these days to find a label with such high quality but RWAV has proven many times now that they are one of the top labels for house music. The latest release from Marlow is a slow-mo house burner that will rip any floor to pieces. I can't stop playing So What, it's both hypnotic and raw"
TOBIAS LIDSTROM / 24 Hours Blogspot
"Put off is insane, I seriously love it!"
DEETRON / Music Man, Circus Company
"Dope! Dope!Dope!"
CAT'n'DOGZ / Pets
"wow. great ep. one of rwav's highlites to date! 5/5!!!"
GERD / 4Lux, Philpot, Clone
"hey I locked the rating starts for the release, but I wanted to give him 5 stars !!! Love it, great production"
TIM PARIS / Marketing
"wow… great ep from a great producer! two tracks are outstanding in my opinion: first of all "so what", almost perfection… and "put off" as vocal tracks are seldomly as good as thias one here"
MOTORCITYSOUL / Simple
"DAMN !! YEEEEES ! This must be my favourite Rwav release so far (once again), and i must say, maybe my favourite release for 2010. I fell instantly in love with 'put off' and 'being with you'. This is exactly the sound i'm looking for, as a dj and as a producer. Sexy, soulful with a forward thinking production. All the tracks here are fucking bombs !! 6/5″
LLORCA aka ART OF TONES / RWAV
"I really need this in the best case for tonite…Incredible! Put Off is the best jam i heard in a long while, the others are quality too!"
RAINER TRÜBY / Compost
"Love it!"
BLEED / de:Bug magazine
"Great stuff! Like them all"
DJ HARRI / Subclub Glasgow
"Raw, chunky and infectious house jams.. Great stuff!"
THE REVENGE / Instruments Of Rapture
"This is one of the best releases of 2010! really personal and amazing music, this is beyond dancemusic.. thanks for putting this out there"
AXEL BOMAN / Pampa, Ourvision
"phat production by marlow. so what is my fav"
FRANKLIN DE COSTA / Einsmusik, Connaisseur
"Wow. One of the best EP's I've heard in a long time. Nothing short of perfect"
ALLAND BYALLO /Nightlight Music, Liebe Detail, Pokerflat
"Stunning quality all over… Put Off is bound to be in my box for long now"
JIMPSTER / Freerange
"Very nice ep. Put Off & So What are great. Trippy & unexpected treament on the "I Don't Care" track of the vocals"
BASIC SOUL UNIT / New Kanada, Mule, RWAV
"This is a refreshingly interesting and differently release. Great to hear more vocal based dance stuff. Put Off is seriously soulful. Brilliant EP!"
SKI OAKENFUL / Primaudial
"this is quality! Been playing last Marlow stuff regularly and this will be hot tonight!"
JOHNWAYNES / Mule
"This is very serious stuff, not easy to find a solid ep like this"
KIKO NAVARRO
"Absolutely BRILLANT!I got to know Marlow on Moon Harbour and this EP is just a pure wonder of deepness and groove. Electronic music as I Love it"
LUDOVIC RAMBAUD / Only for dj's
"WOW pure Deepness the way I play it…..gonna play them all but "Put off" is the one…."
HALO / City Deep
"Put It Off is crazy hot! Also feelin "I don't care about anything" as well… Deeeeeeep shit!!"
MAD MATS / Raw Fusion
"Super beautiful deepness! This is a great ep… Would love to play it out and present it on my radio show…"
LAURENT GARNIER / Pias
"Wow! What an EP! Loving this!! All tracks are great but my fav is "Put off""
DOWNTOWN PARTY NETWORK / Eskimo
"This is my favorite RWAV release thus far! Excellent, all cuts!"
RAOUL LAMBERT / We Play House
"Really good e.p! Love the Smokey Robinson sample..very cheeky but it works…will play 4 sure…maybe 2nite in jo-burg if i get link !"
CHARLES WEBSTER / Miso, Defected
"Killer EP, great songs (!) and the production is world quality, Marlow is on top of his game !"
SASSE / Moodmusic
LEIGH MORGAN / Urbantorque
"WOW !!! Put Off is a great track. Great EP. Loving it."
NACHO MARCO / Loudeast, OM Records
"Quality here as always…What a journey listening to this EP one track after the other…Put the Deepness where it suppose to be!"
MASTER-H / Komplex De Deep, Soma
"Another solid release homeboy… my faves are so what and my little yellow acid sheep. some deep dancefloor bizniss!"
RISE ASHEN / Play
---
MEDIA
High resolution covers and press pictures are available for download in our MEDIA SECTION. If you don't have the password so far CONTACT US with detailed information about your magazine or website and activity. Thx.
---

---