SASSE Presents ONE FOR OSCAR EP
---
CAT No VIEW010 / AVAILABLE in our SHOP
A&R by Dairmount / Graphics & Artwork by Metronomic Family / Pictures by Nils Penner
---
Click the LOGOS below to DIRECTLY BUY the release in the following primary digital shops
---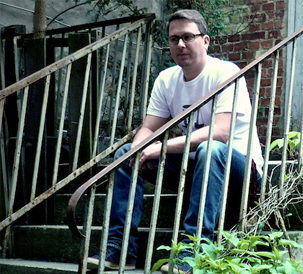 I'm celebrating more than a decade of friendship with the Finnish respected producer & Mood Music proud label owner by welcoming him on the label this june with an highly personal EP called One For Oscar.
It is indeed a very special bunch of tracks that were recorded for this release and this one will satisfy both fans of leftfield House music and Neo Disco fetishists alike. The EP includes the spooky One For Oscar, the beautiful Disco odyssey of Shades Of Grey and the classic Detroit tribute of Lake Michigan (already presented on our Perspectives 03 in october 2009).
Special versions come along by highly recommended upcoming talents such as &ME, known for his work on Kindisch, Liebe Detail, Front Room, Gigolo or Souvenir, and new RWAV signing Paskal, recently noticed for his remarkable release on Wildtrackin and his remix of Alton Miller on Prog City Deep. All this round up by a special dub version of Lake Michigan by Sasse himself…
---
WHAT DJ's SAY…
"Great producer – always follow his stuff – all cool mixes – support"
SLAM
"Brilliant EP all round. lot of great tracks here but especially liking One For Oscar. Sasse going from strength to strength!"
JIMPSTER
"Very nice well rounded package. I like the melodic Lake Michigan best"
BASIC SOUL UNIT
"this is really nice… i particularly like sasse's "lake michigan" dub, and the paskal perspective is just beautiful"
PHILIP SHERBURNE
"nice tracks…summer music… !!! shades of grey is amazing"
PAWAS
"Lake Michigan Sasse Dub for me"
ATJAZZ
"amazing pack!"
KOLOMBO
"Def feeling this groove – pretty hot!"
JOHNNY FIASCO
"One for Oscar gets me. Nice one"
PEZZNER
"Nice melodic tunes. lake michigan is my fave here!"
GERD
"Brilliant as usual from Sasse"
NICK WARREN
"&ME remix is pretty cool! Great drive! one for oscar original + lake michigan original also lovely!"
NUNO DOS SANTOS
"&ME mix is the one for me"
GERGOR TRESHER
"Shades of grey is the one for me, love the twisted beats! YEAH, the remix is cool too. Thank you!"
ALEX DALLAS
"Brilliant EP. Love the &ME Perspective.Its a killer. Will be in my charts!"
WERNER NIEDERMEIER
"Quality stuff once again from RWAV. I like it even more because Lake Michigans riff sounds like Chaka Khan's Ain't Nobody"
SHUR-I-KAN
"Feelin both mixes of 'one for oscar' the most. will play!"
SCOPE
"Quality stuff here from Sasse & the RWAV camp"
FRED EVERYTHING
"Lake Michigan is a cool one guys…the dub works the best on the floor I do believe…nice stuff"
MANIK
"Good old Lake Michigan..one to see out your window on a cold Windsor morning.. great track,it has a nice vibe nd familiar energy about it that makes me feel warm inside. shades of grey is a nice joint too,very atmospheric and polylayered giving it a thick texture.i really enjoy this release all around and will be playing a few of these cuts"
JAY TRIPWIRE
"Old school meets new school… beautiful EP!"
SWIRL PEOPLE
"Fantastic EP! a big piece of proper house!"
DOWNTOWN PARTY NETWORK
"Amazing work from Sasse…Will hammer this ep everywhere i can…"
MASTER-H
"Solid tunes! sasses lake michigan dub is my favorite!"
MARLOW
"nice tracks, great label!"
SECRET CINEMA
"Not into all da tunes but will give it a few more listen, feelin Shades Of Grey so far tho, playin/chartin thnx boyz !"
SIMBAD
"Digging the whole release! Definitely a ot of stuff in there that I am gonna play out!"
NÜRNBERG
"tight sounds and an exemplar production ! top quality . remixers also done a great job! One for oscar "for the floor and "shades of grey "for my favourite!"
JOHNWAYNES
"Loving the groove on the Sasse Dub. A reall mover and shaker!"
MATT MASTERS
"Massive tracks & solid Pack from RWAV !!! Shades Of Grey and One For Oscar for me"
GWEN SPACE BREAKS
"great ep!, on for oscar is my fav!"
D'JULZ
"one for the oscar, two for the bass, come on yall lets rock this!"
AXEL BARTSCH
"I've been diggin this for a while. "Lake Michigan" is my pick on this one. Keeping it deep and melodic"
PHONOGENIC
"&ME does it for me…"
BROTHERS VIBE
"Truly a fine release. Oscar made my day. full support"
ELIE EIDELMAN
"One For Oscar is mindblowing"
BANGANA
"Wow! Sooo many different tracks and remixes! Simply love it!"
FLORIAN KRUSE
"Will play for sure!"
PTOILE
---
MEDIA
High resolution covers and press pictures are available for download in our MEDIA SECTION. If you don't have the password so far CONTACT US with detailed information about your magazine or website and activity. Thx.
---

---