SEBASTIEN SAN Presents FACES EP Feat. AARON CARL
---
CAT No VIEW011 / AVAILABLE in our SHOP
A&R by Dairmount / Artwork by Metronomic Family
---
Click the LOGOS below to DIRECTLY BUY the release in the following primary digital shops
---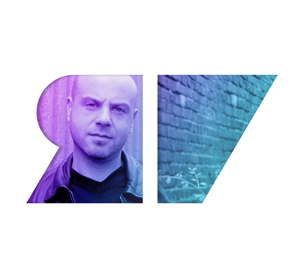 As many labels today, we are no exception to receive tons of demos on a weekly basis and God knows how hilarious & painful this exercise can sometimes be.
Nevertheless, some little miracles sometimes happen to remind us that indeed music can speak from itself and that people recognize each other through it. Sebastien San saw in our label his home of choice for his new collaborative work with Aaron Carl and it didn't take me long to be touched by his message & the music.
I was already well aware of the work of the Northern French producer (in previous years on Gigolo and particularly on Planet E & Rush Hour) who always displayed a strong Detroit heritage in his own Techno productions.
The man has never hidden his fascination & love for the Motor City but this time, Sebastien seemed to take more a Deep House direction while maintaining his personal Detroit influenced soundscapes in the palette.
Another key fact of this work is the vocal collaboration of Aaron Carl who signed here sober & heartfelt lyrics delivered in a perfect way.
For those amongst you that would have never heard about the man, Mr Carl is one of the precious artists out of the Detroit scene of the last 15 years who started under the wings of Mike "UR" Banks on Soul City and left his trace on prestigious labels as Metroplex, Ovum, Millions Of Moments and more recently on Crosstown Rebels (with Dyed Soundorom) and his own Wallshaker imprint. The fruit of this collaboration is definitely not a peaktime track but more of the kind to be remembered in the building of the night or in the early hours of the morning. Sebastien signed himself 3 versions of the track for your maximum pleasure.
---
WHAT DJ's SAY…
"Killah, nice to see this coming out on RWAV…"
SASSE / Mood Music / FIN
"Excellent"
MANUEL TUR / Mildpitch, Freerange / GER
"Yes, loving the Vox Mix!"
DEETRON / Circus Company, Music Man / SWI
"Sounds like another great RWAV release to me. liking the Vox mix best. looking forward to playing it out."
JIMPSTER / Freerange / UK
Excellent ! Love it ! Reminds me the top quality Carl Craig stuff"
FABRICE LIG / R&S, Fine Art, Third Ear / BE
"Love the Other mix!"
PETER KRUDER / Macro / AUS
"The dub is my favorite!"
ALEXKID / Cadenza, Rekids / FR
""the Vox is def for me… Top Class as alway …. will play and chart it"
DJ YELLOW / Composite / FR
"Nice EP, love the dub…"
WERNER NIEDERMEIER / Supplement Facts, Phonica / GER
"Too late for my saturday gig, unfortunately… i was on the road already… this is my fave rwav release so far… for real… vox mix = warm house as i like it!"
GERD / Clone, Philpot, 4Lux Black / NED
"Great track! The "Other" mix is my choice. Beautiful!"
JOEL ALTER / RWAV, Sweatshop, Bassculture / SWE
"I prefer the other mix, im feeling it!"
KIKO NAVARRO / OM Records, SSOH / SPA
"Wonderful stuff!!!"
MOODYMANC / 2020 Vision / UK
"Really digging this!"
PHONIQUE / Dessous / GER
"Incredible. I'll be playing this for a while. Excellent work."
PEZZNER / Freerange, Ghostly / US
"Dis is hoooooooootly deeeeeeeep !!! dfntly need it 4 2nite !!!"
SIMBAD / Raw Fusion, Brownswood / FR
"oh yeah. pure quality. love the vox+dub."
PHONOGENIC / Cocoon, Mood Music / FIN
"Faces kicks Asses !!!Lovin Aaron Carl's work on the track. The main mix will take a good place in my sets and my future playlists."
ART OF TONES / RWAV / FR
"Very nice EP!"
YANNICK / Needs, Red Bull Music Radio / GER
"Excellent release from RWAV, Vox Mix is my favorite. Love it !!!"
GWEN / Spacebreaks / FR
"Loving Other mix! Another top release from RWAV."
DOWNTOWN PARTY NETWORK / Eskimo / LIT
"Quality roots music. emotive and powerful. will bang it lovingly."
AUDIO SOUL PROJECT / Fresh Meat / US
---
MEDIA
High resolution covers and press pictures are available for download in our MEDIA SECTION. If you don't have the password so far CONTACT US with detailed information about your magazine or website and activity. Thx.
---

---