ANDREAS SAAG Presents LESLIE'S VISION EP
---
CAT No VIEW014 / Released on February 25th 2011
AVAILABLE in our SHOP
A&R by Dairmount / Artwork by Metronomic Family
---
Click the LOGOS below to DIRECTLY BUY the release in the following primary digital shops
---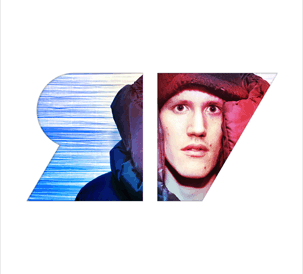 Our first artist EP of 2011 is the long awaited debut of the respected Swedish producer Andreas Saag.
After releasing some succesful work on established labels such as Freerange & rebirth in 2010, Saag chosed to deliver something extremely personal & musical to his long time friend Dairmount.
The result is a mesmerising organic Techno Jazz odyssey of 10 minutes recorded with the help of his friend Filip Leyman on drums in Leyman's studio in Gothenburg.
This timeless piece comes also in 2 other deeper late night renditions made by Andreas himself…
Written, produced, arranged & recorded by Andreas Saag and Filip Leyman in Studio Leyman,Gothenburg 2010.
Andreas plays: Hammond organ (main and lead on first part), Crumar Multiman-S string machine, piano, Yamaha organ bass pedals, Juno 6, handclaps with breathing and sings epic backround vocals.
Filip plays: Hammond (epic backbeat notes on second part), drums, Yamaha organ bass pedals, Korg Polysix, Roland Juno-106, handclaps, guitar.
Atmospheric background outdoor field recording performed by Andreas Saag and Filip Leyman promenading around Järntorget, Gothenburg.
Mixed by Andreas Saag and Filip Leyman in Swell Studios, Gotheburg 2011.
Additional production and remixing on 02 and 03 by Andreas Saag in Swell Studios, Gotheburg 2011.
Mastered by Bo Kondren @ Calyx, Berlin
---
WHAT DJ's & MEDIA SAY…
"Hummmm , another lovelyrelease on the label, full support of course"
LAURENT GARNIER / Pias
"top quality!"
KIKO NAVARRO / SSOH
"Good to have some more organic vibes again from Andreas. Really, the first cut is the deepest!"
ENNIO STYLES / Stylin Show
"Andreas saag on fire! the deepest mix is the one for me! what a track!"
IRON CURTIS / Mirau, Retreat
"Love the original.. saag is one of my favorites!"
FEYGIN / Composite, Syncopat
"both the deeper mixes sounding great! going to be trying out this weekend. great to hear Andreas on good form as always…"
JIMPSTER / Freerange
"Nice 3 tracks, my fav is the Deepest Version"
SOUL MINORITY / Kolour
"Beautiful ! ACE !"
LANOIRAUDE / Missive
"Deeper Perspective Mix gave the perfect balance between the jazzy piano and the deep beats for the dancefloor"
NOMUMBAH / Yoruba
"psychedelic jazz trance in the best possible way….loving it!"
RAINER TRÜBY / Compost
"Room With A View is one of my fav labels of the last two years. The combo of the label with Andreas Saag is superb. The scene needs more music like this! Leslie Vision is superb!"
COYU / Suara Music
"Very nice EP, all three mixes are great and i think the deepest perspective will make it into my playlist, thanks a lot and keep up the good work…"
MATT FLORES / Farside, Shack Music
"Absolutely amazing, once again hit RWAV my Gusto! Love all of Andreas Stuff but this one is really outstanding…will play for sure! Thanx a lot for sending over…"
LEMON POPSCICLE / Moodmusic
"Gorgeous. I love the Deepest Perspective"
ALLAND BYALLO / Pokerflat, Dirt Crew
"A beautiful release, with superb production. Overall this is probably not the sort of stuff I'd play out but I'm loving it and am a big fan of Andreas' work. Full support"
GIOM / Lost My Dog
"Loving the musical vibe. Great job"
HIRO / Sole Music, SSOH
"Original mix is just beautiful"
PHONOGENIC / 2020 Vision, Cocoon
"Liking all mixes"
DJ HARRI / Sub Club Glasgow
"nice release"
DIRK RUMPFF / Offtrack Show, Home
"Great ep, love all three tracks (I really mean: love!). Trying to put a review into our next issue"
TOBIAS STAAB / Groove Magazine
"excellent…love the original version, love to get the wav pls for radio show this week"
CHARLES WEBSTER / Miso, Defected
"Wow! I love the original for it´s playfullness and pure musicality, but for my dj sets the deepest Perspective is just perfect.Gött jobbat Andreas!"
JOEL ALTER / RWAV, Bassculture, Sweatshop
"beautiful deep house music!"
SCOPE / Large, NRK
"very very nice & moving tune. prefer the deeper mix… beautiful piano…"
INGO SÄNGER / Farside, Westpark Unit
"Andreas' Jazz Lapse from Perspectives 02 is one of my favorite tracks to ever come out under RWAV. Leslie's Vision is very different from that one but I like it a lot too. Original version is the one for me. See it as a long time stay in my radio show"
VIDIS / Future Classic, Best works
"Original version for me, magnifique !"
ST PLOMB / Perspectiv
"Nice release!"
BENOIT CARRETIER / Tsugi Mag
"A multiskilled talent. Missed Mr. Saag for a while and am glad to see he didnt leave. His perspectives for rwav show that he isn't only open-minded, but can also define clear visions that give a bigger picture when understood in full. Gonky revive!"
M.PATH.IQ / De:Bug, We Are
"What a SUBLIIIIIIIIME RELEAAAASE !!!! All mixes are great but the original is EEEEEPIC oh my goooooosh !!!! Andreas you've really smaaaashed it dis time bwoy !!!! PLAYIN / CHARTIN"
SIMBAD / Defected, Brownswood
"Great as always!"
ALF TUMBLE / Heya Hifi, Sumo
"Lovely music from Andreas Saag! Great release. Love the chords and the piano!"
ROBERTO RODRIGUEZ / Serenades
"Sublimely organic and real sounding music with a great haunting feeling. I love it."
DARRAN NUGENT / Proton radio
"Deep deeper deepest perspectives are just lovely!"
NUNO DOS SANTOS / Compost
"Deeeeeeep! Another top notch release from RWAV… Inspirational sounds as ever…"
SKI OAKENFUL / Primaudial
"great release!"
IGOR MARIJUAN / Ibiza Global radio
"nice stuff. will play on the show"
MICHAEL RUETTEN / Soulpatrol Radio
"Another great release form Andreas Saag, great work. Loving the Deeper Perspective"
NACHO MARCO / Loudeast, OM Records
"Awesome Saag release. Beautiful track, well produced and dance floor killer at the same time"
TOBIAS LIDSTROM / 24 Hours Blog
"Like this, quit nice jazzy flowing tune. Full support"
MICHAEL REINBOTH / Compost
"Simply beautiful"
NOWAKOWSKI / RWAV, Pets
"sensational deep action over here, thanx for these babies"
STATHIS KALATZIS / Bpitch
"great deepness! think i like the original the best!"
NICK CHACONA / Moodmusic
"Deeper & deepest perspectives for me, great release!"
DARKO ESSER / Wolfskuil
"super! original is great so are the Prespectives!"
JOHNWAYNES / Mule, Compost
"As always Andreas doesnt disappoint.. feeling the Deeper mix most.."
KEV O'BRIEN
---
MEDIA
High resolution covers and press pictures are available for download in our MEDIA SECTION. If you don't have the password so far CONTACT US with detailed information about your magazine or website and activity. Thx.
---

---