ART OF TONES PHONOGENIC JOHN BERG SAAG Presents NEVER TOO LATE EP 12"
---
CAT No VIEW0010-12 / Released on September 26th 2011
A&R by Dairmount / Artwork by Sandra Leidecker / A&R by Dairmount
AVAILABLE IN OUR SHOP
AND ALSO AT PHONICA / DECKS.DE / CLONE RECORDS / HHV / JUNO RECORDS / RUSH HOUR
---
---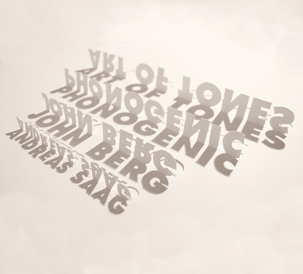 Back from a little summer break, Dairmount has once again compiled four killers of the highest order to satisfy the most demanding.
Considered as one of the most played summer tracks by Resident Advisor and after being charted by everyone from The Revenge to DJ Sneak, Art Of Tones' "Too much" is finally available on black wax. The track has arrived just in time to announce the brand new EP "La Débandade" due for a late September release.
To complete the A-side, "I Woke Up…" is another high in demand track by our Finnish long runner Phonogenic. Since the early nineties the man has been an established name in the international club scene with key releases on prestigious labels like Guidance, Cocoon or Mood Music to name a few.
This magnificent piece of slomo house has been played everywhere this summer by Charles Webster, Osunlade or Jimpster and has been recently included on the Dairmount & Berardi's "My View Of the room" compilation. On the B-side, Dairmount has opted for two of his favourites out of the rich label catalogue. He went for the kind of tracks that have really got the label 'classic' written all over them : John Berg's "Stabs" is the brainchild of Christoffer & Alex Berg, both known individually for their own outstanding work.
Chris has been known as Hird and as the producer of some work of the huge leftfield electronic act Fever Ray; Alex is known today as half of the hot duo Genius Of Time (with releases on Royal Oak, Aniara, Freerange). The track is an absolutely unique collaboration between the brothers Berg and has caused a stir for quite some time.
And finally, completing the collection is Andreas Saag's "Jazz Lapse". It's this stunning piece of music that brought Saag back to the forefront of the scene in 2009 and has never been released before on vinyl.
This vinyl edition is a collectible item existing in limited 300 copies.
---
WHAT DJ's SAY…
"Been playing the Art Of Tones nearly every set recently. super funked
up groove and people love it.quality all round once again!"
JIMPSTER / Freerange
"Super-nice, dubby, deep, chuggy goodness. Lovely."
DEEPCHILD / Future Classic
"Hell yes this is great! What a wonderful release!"
ROBERTO RODRIGUEZ / Serenades
"These are all fantastic. Especially "I woke up…"
PEZZNER / Om Records
"Hair on my hips is dope!"
STEVIE SOLE / Tronicsole
"Very hard to pick a favourite here … will probably end up playing
them all at some point!"
THE REVENGE / Instrument Of Rapture, Delusions Of Grandeur
"Love the Art of Tones Tune. Great. Will play this"
PETER KRUDER / G Stone
"Hot hot hot…as always!"
MAD MATS / Raw Fusion, Local Talk
"fantastic EP, all tracks are shining here"
FUNK D VOID / Urbantorque
---
MEDIA
High resolution covers and press pictures are available for download in our MEDIA SECTION. If you don't have the password so far CONTACT US with detailed information about your magazine or website and activity. Thx.
---

---