ART OF TONES Presents LA DEBANDADE EP
---
CAT No VIEW017 / Released on September 23rd 2011
Produced & composed by Ludovic Llorca / Artwork by Metronomic Family / A&R by Dairmount
AVAILABLE in our SHOP
---
Click the LOGOS below to DIRECTLY BUY the release in the following primary digital shops
---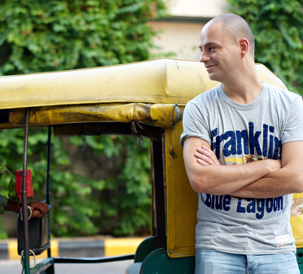 It has been worth the wait but the follow-up to the huge success of "The World As I Live It EP" is finally there. Long running stalwart of the global House scene for nearly 20 years, Ludovic Llorca has brought his work at the forefront with labels such as F Communications & 2020 Vision.
In 2009, he lived an creative renaissance by uniting with Room with A View, finding with the guidance of Dairmount, a new genuine inspiration shelter. Several tracks started to appear on the label in the Perspectives serie and his first EP " The World As I Live It" was released in march 2010 combining a huge critical & popular acclaim.
Literally everyone played tracks of the EP and it is still a firm favorite of many one year after. This spring, Art Of Tones contributed with "Too Much" to the 5th instalment of the Perspectives serie. This one became again one of the most played track of the summer according to Resident Advisor.
Mr llorca has also been a very in demand remixer as witness recent additions to his already impressive remixography : Tortured soul on Fred everything's Lazy Days, TJ Kong on Compost, Evan Evans on The Revenge's Instruments of Rapture, Marcos in Dub for Alma Soul, Mario Basanov for Under The Shade. He is also currently finishing his version of the next Toolroom big hit Punky Blaster's Missin'.
This brand new 3 tracker is a kind of tribute of Ludovic to the 90's US House sound that inspired him to start to produce music in his early days. But instead of going for a superficial retro touch, he chosed to recreate the spirit in his very own way. This is why a wide range of influences can be felt here, from 70's movie soundtrack to Salsoul, from Kerri Chandler to Mood 2 Swing…
Written & produced by Ludovic Llorca, Perpignan.
Mastered by Lynn Petrin @ Ebony Cuts, Hamburg.
Artwork by Metronomic Family. Picture by Fabrice Dayan.
Distributed by finetunes.
A&R By Dairmount.
---
DJ FEEDBACK
"One of the most talented chaps in the game today on one of the industry's most recognized labels. When Art of Tones and RWAV join forces .. time to get out your pens and paper and take notes"
MIKE W / Kolour
"Classic Llorca trax here. Very nice production as always"
PHONOGENIC / Mood Music
"tracks sound great as I would expect from Art of Tones"
SHUR-I-KAN / Freerange, Dark Energy
"Art Of Tones is clearly putting his cards on the table, showing us some true house producer muscles here! "About Time" is awesome"
NOWAKOWSKI / RWAV
"A massive ep once again!"
DC SALAS / Dr Vinyl
"excellent like always"
POL_ON / Freerange , Pets
"Very good as usual"
FRED EVERYTHING / Lazy Days
"very nice package, funky & deep. top quality, as always from art of tones!"
WESTPARK UNIT / Farside
"Great EP, and incredible groove effort, as usual"
FABRICE DAYAN
"Really enjoying abut time, will definitely play"
AL CALAVICCI / Falk
"Nice EP from Art Of Tones on RWAV, you guys did it again. "About Time" is my joint! Hot!"
RAFAEL MORAES / Yoruba
"Great tunes, with those classic Llorca basslines. Top notch"
LANCE DESSARDI
"Strong stuff as usual from the Art Of Tones. Lovin "About Time" and "La Debandade" Strong 90's NY vibes"
TIM DELUXE
"quality as usual from AOT and RWAV. Will play "La debabdade for sure!
JOHNWAYNES / Mule, Serenades
"Intelligent, musical and amazing production as usual! I'm loving Dolces a lot so will play this one out"
GIOM / Lost My Dog
"nice as always"
ANDRÈ LODEMANN / Best Works, Freerange, RWAV
"Well done amigo, love this EP"
FUNK D'VOID / Soma
"Killer! Room with a view has impeccable taste"
TREVOR WALKER
"About time is super groovy! lovin it!"
DOWNTOWN PARTY NETWORK
"Since first tones and the build up of About Time its simply clear this a tune for me. BIG! Others sound classic, but dont cause the same effect"
RENE JOSQUIN
"Great tracks, love them all"
SOUL MINORITY
"about time is dope. cool ep all in all"
ELIE EIDELMAN / Jack Off
"La Debandade is my favorite here. Dolces is cool too"
THE QUANTUM MECHANICS / Composite
"Whaooo..Once again Art Of Tones Hit the spot with this EP…My two fav are "About Time" and"Dolces"
MASTER-H / Komplex de Deep
"Can't go wrong with an Art Of Tones EP on RWAV"
RAOUL LAMBERT / We Play House
"nice release again from ludovic. about time's my fave"
GERD / 4 Lux , Clone
"Really like Dolces although ep is strong overall"
STEVIE SOLE / Sole Music
"Lovely new tunes from Llorca! Really nice release. Will be playing for sure!"
ROBERTO RODRIGUEZ / Serenades
"Another great release by Art Of Tones and RWAV!"
SCOPE / Large
"Love it"
MOODYMANC / 2020 Vision
"Love "About Time", bassline is sick"
MAD MATS / Local Talk
"Incredible music from RWAV as usual"
ALLAND BYALLO / Dirt Crew, Pokerflat, Liebe detail
"FULL SUPPORT, loving all Art Of Tones music congrats on this ep"
HALO VARGA / Surface, City Deep
"More brilliance from Art of Tones and RWAV.. they are setting an example for what house music should sound like, and its very hard to follow. Love everything!"
FEYGIN / Composite
"Beautiful music once again from Art Of Tones"
NACHO MARCO / Loudeast
MEDIA
High resolution covers and press pictures are available for download in our MEDIA SECTION. If you don't have the password so far CONTACT US with detailed information about your magazine or website and activity. Thx.
---

---