MARLOW LODEMANN & SAAG Presents SLEEPWALKING NO MORE EP 12″
---
CAT No VIEW007-12 / Released on March 7th 2011
A&R by Dairmount / Artwork by Sandra Leidecker / A&R by Dairmount
AVAILABLE IN OUR SHOP
AND ALSO AT DECKS.DE / DEEJAY.DE / HHV / CUEPOINT / MUSIC HEAD / STRADA RECORDS / JUNO RECORDS
---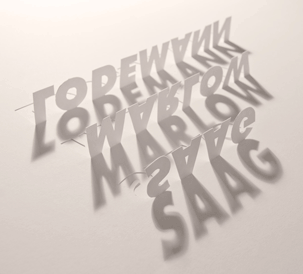 Room With A View open 2011 with a new vinyl serie undertitled Midnight Circle Lullabies, cooked with love by label honcho Dairmount.
The aim of this serie is to bring maximum satisfaction to today's vinyl collector by summing up on every episode some of the most in demand tracks of our catalogue (never released on vinyl before), some exclusive new tracks & potentially some "vinyl only" material.
One thing for sure, Dairmount likes to design products in the same way that he likes to enjoy them himself as a die-hard vinyl lover… This is why the tracks included here are high standard production & got a timeless flavor. Many of you will be happy to see the recent Marlow's smash hit Put Off coming in his full vinyl glory after being played & playlisted heavily by everyone in recent times. Jimpster, The Revenge, Deetron or Garnier are all big big fans of this tune!
But the best is still to come on this boombastic piece of black gold with 2 brand new tracks courtesy of 2 acclaimed masters of deepness, both being some of the most in-demand producers & remixers of the deep club music of this planet : André Lodemann, who launched his magic progression in 2009 on RWAV with his successful Vehemence of Silence EP, has been unstoppable since then, releasing & remixing for high quality imprints like Dessous, Buzzin Fly, Freerange or CityDeep. He is returning on RWAV with his second artist EP end of march and Your Choice is a little teaser of this exclusive to this vinyl. eventhough it contains the incredible production touch of André's, this track is a surprising one and has been tested on the floors with big success.
On the flipside, we needed the full side to let this monster of a track speaks in full power. Andreas Saag, who appeared on RWAV already in 2009 with Jazz Lapse and got a round of applause in 2010 with releases on Freerange & Rebirth, decided to offer this very personal Techno Jazz odyssey to the label, as a tribute to his longtime friendship with Dairmount.
Recorded & produced with the help of his Gothenburg fella Filip Leyman, this is an organic beauty that would convince anyone that club music is first & foremost music…
This vinyl edition is a collectible item existing in limited 300 copies.
A1 Marlow / Put Off
A2 Lodemann / Your Choice
B Andreas Saag / Leslie's Vision Feat. Filip Leyman
---
WHAT DJ's SAY…
"Put off is insane, I seriously love it!"
DEETRON / Music Man, Circus Company
"Dope! Dope!Dope!"
CAT'n'DOGZ / Pets
"wow. great ep. one of rwav's highlights to date! 5/5!!!"
GERD / 4Lux, Philpot, Clone
"hey I locked the rating starts for the release, but I wanted to give him 5 stars !!! Love it, great production"
TIM PARIS / Marketing
"I really need this in the best case for tonite…Incredible! Put Off is the best jam i heard in a long while, the others are quality too!"
RAINER TRÜBY / Compost
"Raw, chunky and infectious house jams.. Great stuff!"
THE REVENGE / Instruments Of Rapture
"Really personal and amazing music, this is beyond dancemusic.. thanks for putting this out there"
AXEL BOMAN / Pampa, Ourvision
"Wow. One of the best EP's I've heard in a long time. Nothing short of perfect"
ALLAND BYALLO /Nightlight Music, Liebe Detail, Pokerflat
"Stunning quality all over… Put Off is bound to be in my box for long now"
JIMPSTER / Freerange
"This is very serious stuff, not easy to find a solid ep like this"
KIKO NAVARRO
"Absolutely BRILLANT!I got to know Marlow on Moon Harbour and this EP is just a pure wonder of deepness and groove. Electronic music as I Love it"
LUDOVIC RAMBAUD / Only for dj's
"Put It Off is crazy hot! Also feelin "I don't care about anything" as well… Deeeeeeep shit!!"
MAD MATS / Raw Fusion
"Super beautiful deepness! This is a great ep… Would love to play it out and present it on my radio show…"
LAURENT GARNIER / Pias
"This is my favorite RWAV release thus far! Excellent, all cuts!"
RAOUL LAMBERT / We Play House
"WOW !!! Put Off is a great track. Great EP. Loving it."
NACHO MARCO / Loudeast, OM Records
"Andreas saag on fire! the deepest mix is the one for me! what a track!"
IRON CURTIS / Mirau, Retreat
"Room With A View is one of my fav labels of the last two years. The combo of the label with Andreas Saag is superb. The scene needs more music like this! Leslie Vision is superb!"
COYU / Suara Music
"Loving the musical vibe. Great job"
HIRO / Sole Music, SSOH
"Leslie's Vision is just beautiful"
PHONOGENIC / 2020 Vision, Cocoon
"nice release"
DIRK RUMPFF / Offtrack Show, Home
"Wow! I love Leslie's Vision for it´s playfullness and pure musicality, but for my dj sets the deepest Perspective is just perfect.Gött jobbat Andreas!"
JOEL ALTER / RWAV, Bassculture, Sweatshop
"beautiful deep house music!"
SCOPE / Large, NRK
"Leslie's Vision is a very very nice & moving tune. prefer the deeper mix… beautiful piano…"
INGO SÄNGER / Farside, Westpark Unit
"What a SUBLIIIIIIIIME RELEAAAASE !!!! All mixes are great but the original is EEEEEPIC oh my goooooosh !!!! Andreas you've really smaaaashed it dis time bwoy !!!! PLAYIN / CHARTIN"
SIMBAD / Defected, Brownswood
"Great as always!"
ALF TUMBLE / Heya Hifi, Sumo
"Deeeeeeep! Another top notch release from RWAV… Inspirational sounds as ever…"
SKI OAKENFUL / Primaudial
"great release!"
IGOR MARIJUAN / Ibiza Global radio
"nice stuff. will play on the show"
MICHAEL RUETTEN / Soulpatrol Radio
"Simply beautiful"
NOWAKOWSKI / RWAV, Pets
"Lovely. Just lovely! Mr Lodemann doesn´t dissapoint! He always delivers the most loveliest music"
ROBERTO RODRIGUEZ / Serenades
"Lodemann Sounds great! lovely tones, clever sample play, and a real sense of musical development. not your average deep house"
PHILIP SHERBRUNE / Beatportal, Wired, Xlr8R
"Your Choice" is my choice… just can't decids if the original or the iron curtis rmx is my fav. great EP!"
JOHN MUDER / Wazi Wazi, Mood Music, Suol
" Great EP!"
SOUL MINORITY / Kolour
"Sounds dope"
HIRO / Sole Music, SSOH
"Really greaat quality EP! Definitely in my chart!"
CHARLES WEBSTER / Miso, Defected
---
MEDIA
High resolution covers and press pictures are available for download in our MEDIA SECTION. If you don't have the password so far CONTACT US with detailed information about your magazine or website and activity. Thx.
---

---