MCDE BASIC SOUL UNIT SEBASTIEN SAN AARON CARL CHRISTO Present MIDNIGHT CREEPERS EP 12″
---
CAT No VIEW009-12 / Released on June 20th 2011
A&R by Dairmount / Artwork by Sandra Leidecker / A&R by Dairmount
AVAILABLE IN OUR SHOP
AND ALSO AT PHONICA / DECKS.DE / CLONE RECORDS / HHV / JUNO RECORDS / RUSH HOUR
---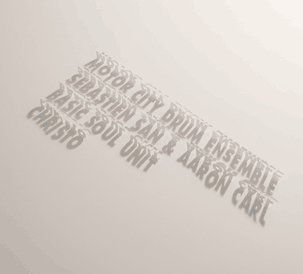 Dairmount selected 4 amazing tracks for this third episode of the Midnight Circle lullabies vinyl serie. This time, it is all about tributing the Detroit sound which has been a major influence for many Room With A View artists.
The one & only Danilo Plessow, celebrated in recent years as Motor City Drum Ensemble, known for his legendary Raw Cuts serie and for many high profile remixes of Dj T, Akabu, Caribou & more, is present here with his Mr. Fingers influenced Moving Through Clouds, a beauty of retro futurism. The second track of the A side is a very special one for us as this has been one of the latest recordings of Detroit legend Aaron Carl, who died sadly in autumn 2010. This track is the fruit of his collaboration with the reknown French producer Sebastien San, known for his work on prestigious labels like Planet E, Rush Hour, Gigolo, Echochord Colour or recently We Play House.
On the flipside, the respected Toronto producer Stuart Li aka Basic Soul Unit drops the classic Bedroom Blues, a track cherished by Deetron, Kink, Chateau Flight Or Shit Robot in the perfect tradition of his work on Versatile, Mule, Philpot or the Berlin emporium of Ostgut Ton. The 4th track of this solid EP is the fresh New Jazzno of the rising Derby producer Christo, who produced tracks & remixes for Atjazz, Charles Webster & recently Robert Owens. This Techno soul tune with an afro twist has quickly become a favorite of John Muder, Halo Varga, Giom and others…
This vinyl edition is a collectible item existing in limited 300 copies.
---
WHAT DJ's SAY…
"New Jazzno" is great, love the chords"
DEETRON / Music Man
"Another wicked offering from the RWAV crew. New Jazzno is right up my street!"
SKI OAKENFUL / Primaudial
"fantastic EP, all tracks are shining here"
FUNK D VOID / Urbantorque
"This release is like Dairmount knowing exactly what i like and
putting it in one release! Great one!"
ROBERTO RODRIGUEZ / Serenades
"Will be hard to choose my favorite on this one all tracks are amazing, You have my full support.."
HALO VARGA / Surface, City Music Deep
"Im a big fan of Stuart`s music and this record is great as usual! Monster kick drums and music with spirit! thank you so much for
sending it!"
KINK
"Stuart in top form!"
CHATEAU FLIGHT /GILB'R
"Inspiring stuff here! Bedroom Blues stands out to me but they're all great"
PEZZNER
"Bedroom Blues is the best track for me"
XPRESS 2
"all tracks rawks !!"
SASSE
"Bedroom Blues – yeah man!"
BROTHERS VIBE
"Wonderful stuff!!!"
MOODYMANC / 2020 Vision / UK
"Loving Other mix! Another top release from RWAV."
DOWNTOWN PARTY NETWORK / Eskimo / LIT
"Moving through clouds is my favourite"
TRUS'ME
"loving the mcde track"
TIM SWEENEY
"Lot's of great things in there Will play for sure"
LAURENT GARNIER
---
MEDIA
High resolution covers and press pictures are available for download in our MEDIA SECTION. If you don't have the password so far CONTACT US with detailed information about your magazine or website and activity. Thx.
---

---