DAIRMOUNT Presents DUST DEVIL Ft. Nowakowski
CAT No VIEW022 (digi) / VIEW015-12 (12″) / Out on October 26th 2012
A&R by Dairmount / Artwork by Alland Byallo
---
Click the LOGOS below to DIRECTLY BUY the release in the following primary digital shops
---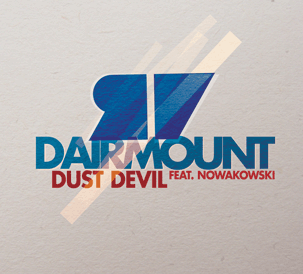 VIEW022 (digi) / VIEW15-12 (vinyl)
DAIRMOUNT
DUST DEVIL Feat. NOWAKOWSKI
Vinyl label infos :
A SIDE DUST DEVIL Feat. NOWAKOWSKI
B SIDE DUST DEVIL DUB Feat. NOWAKOWSKI
Written, mixed & produced by Dairmount & Nowakowski, Berlin & Gothenburg.
Mix engineering by Sasse @ Blackhead, Berlin
Mastered by Lynn Petrin @ Ebony Cuts, Hamburg / Vinyl Cut by Calyx, Berlin
Copyright Control / Artwork by Alland Byallo, Berlin
www.roomwav.com / info@roomwav.com
P+C Room With A View 2012
All right reserved / Made in the EU / Sacem
After an acclaimed serie of remixes on labels like Freerange, Fresh Meat, Composite & Komplex De Deep in 2011, Dairmount is back on his own imprint with Dust Devil. Recorded this summer between Gothenburg & Berlin with Nowakowski, the Swedish hotshot of the label, Dust Devil emphasized strongly Dairmount's love for House music infused of Hip Hop attitude. The motto is clear : reduced number of elements, samples only, maximum impact. Dairmount, who has always been strongly influenced by Hip Hop production techniques, had lots of fun to collaborate with Nowakowski, another strong Hip Hop influenced tweaker.
Following a busy dj schedule that brought him in the last 18 months across Scandinavia, US, Turkey, France, Holland & Latvia between others, Dairmount is the true soul & ambassador of the label that he created in 2009.
Collecting records since his childhood, he slowly discovered the world of spinning with his early Hip Hop heroes such as Dj Premier & Pete Rock, early records of Acid house and the versatility of Gilles Peterson's Talkin Loud imprint. As a result of this, he immersed himself in the deepness of the Black music history : Jazz, Latin , Hip Hop, Detroit Techno, House and Afro Funk entered his record collection.
In the nineties, he quickly built himself a solid reputation in the underground club circuit that granted him to play at several major events in Benelux including the famous Eskimo nights (before it became a famous label) or big festivals as Dour, 10 Days Off or Axion Beach and extended his dj trips across Europe & overseas alongside prestigious spinners such as Kevin Saunderson, Gilles Peterson, Jazzanova, Rainer Trüby, Derrick May, Mad Mats, Dimitri from Paris, Fred Everything, King Britt, Kirk Di Giorgio, Jimpster or 4hero and opened concerts for performers like Herbie Hancock and St Germain. He also proudly represented Belgium at the 2nd edition of the now world reknown Red Bull Music Academy held in 99 in Berlin.
Dairmount contributed during 8 years as one of the main editors of the respected Plastiks magazine in Belgium before founding in 2003 metronomic-family.com, a web portal as a means to share his musical beliefs with a worldwide audience. Overwhelmed by positive feedback of hungry music lovers worldwide, the site managed to create a prolific discovery factor that contributed many upcoming artists & underground labels to reach a wider audience.
Known by many as a "man of challenge & initiative", he moved from his native Brussels in 1999 to explore other countries leading him to live a transatlantic passion for Montreal (where he managed & restyled the legendary Primitive record shop) and landed in Hamburg in 2003. Actively taking part to future developments of the ever-changing music industry, Phil took part to the digital revolution in its early steps and became in 2004 (till present) A&R and label manager of respected labels such as Trusme's Prime Numbers, Gerd's 4Lux Black, Soulphiction's Philpot, Jazzanova's Sonar Kollektiv, Jimpster's Freerange, Theo Parrish's Sound Signature and many others inside the team of the respected digital indie Finetunes.
Besides his dedication & work for others, Phil stepped in the studio in 2005 to give birth to his early production projects such as Smiles Ahead (with David Alexander) & Petter & Dairmount (with Ralf Petter) which resulted in remix works for artists as diverse as "ex-Beanfield" Sandboy, swedish prodigies Hird & Yukimi Nagano (from Little Dragon fame) & NYC's producer Moses McClean on labels like Hinterland (Ger), DNM (Swe) and Still Music (US). With great encouragements and plays from luminaries as Jimpster, Atjazz, Laurent Garnier, Mr Scruff, Sasse or Jazzanova, he caught the virus trying more and more to escape his busy schedule to push his production skills.
This led Phil to become Dairmount, his new identity & production moniker and to create his own production unit with his long time friend Marino Berardi (known as Dairmount & Berardi, today on hold) & to the accomplishment of his long time dream, the launch of his own label, Room With A View, in April 2009.
---
WHAT DJ's & MEDIA SAY…
"Dust Devil is so raw and dirty, it sounds like music from a different time, might be the past, might be the future. That`s the quality i`m looking for when I listen to music. Great release!"
KINK / Rush Hour, Liebe Detail, Ovum / Bulgaria
"great vibe! raw and groovy and charming"
AXEL BOMAN / Sutio Barnhus, Pampa / Sweden
"This is well hot! Totally up my street. Nice one Phil. Dope….please can I get some wavs so I can play it this weekend!"
RED RACK'EM / Bergerac, Smugglers Inn / Scotland
"Really loving it… Nice to hear something that sounds to free… No real boundaries on this one. Super release! Will support on the new ARCo. Radio show"
ATJAZZ / Arc / UK
"Nice tracks mister dairmount! raw, dusty shit which grooves hard and pumps in all the right places. well done!"
JIMPSTER / Freerange / UK
"Ouff…dark…raw…gritty…jazzy…Feelin it"
MAD MATS / Local Talk / Sweden
"Lovin that dub!"
DEETRON / Music Man / Switzerland
"Big fan of this release. Drippin fatness, the way I love it. I immediately imagine a sweaty dark club full of warm people smiling and dancing to this. Nuff said"
RAOUL LAMBERT / We Play House, Swirled / Belgium
"Another amazing release from Dairmount! Love both tracks here, in my box!!"
JAMIE ANDERSON / Artform, Made 2 Play / UK
"Rugged and raw…..diggin' it!"
CRAIG SMITH / 6th Borough Project, Delusions Of Grandeur / Scotland
"A solid release from what is becoming one of my favourite labels, the Hip Hop ideals definitely come through strong and it has the drama you come to expect from Room With A View"
CHRISTO / Superficially Deep / UK
"I have to admit i wasnt convinced the first time i heard it. But this is the kind of tune that grows on you : The pattern is pretty strong and the whole thing sounds very different from everything around – reminiscent of the weirdest Pepe Bradock releases. Yet… the groove is kinda weighty, like something is late (definitely has this hiphop touch). I need to hear this one in a club, in the middle of dj set !"
ART OF TONES / RWAV / France
"Amazing release from the man with a view! Pure vibes. Raw, soulful, groovy, interesting and engaging. This devil of a disc will stay dust free for a long, long time"
ALLAND BYALLO / Bad Animal, Pokerflat, Circus Company / USA
"This EP is siiick will play it Loud indeed…Both mixes for me..Thanx for sharing, need more Quality stuff like this"
MASTER-H / Soma, Komplex De Deep / France
"Two versions are great, fonkyness!"
DJ JEE / Technorama / France
"Such a colorful and inspirational vibes in here… Well done guys, I really love it!"
CARLO / Neovinyl / Spain
"Super stuff. Tip Top"
ALEX BARCK / Sonar Kollektiv, Derwin / Germany
"Loving this! Really cool tune. Love the smooth and dirty vibe"
ROBERTO RODRIGUEZ / Serenades, Fina / Finland
"I love the sample work, dusty indeed!"
LEYO / Boogieman, RWAV / Netherlands
"Dub mix is dope"
VIADRINA / Klasse, Bpitch Control / Polland
"I like both Original and Dub, great follow up to Nowakowski's Magenta EP"
BOGDAN TARAN / Dance Box, Amber Muse / Latvia
"Fucking good. Loving it"
JI-HUN / De:Bug Magazine / Germany
"great stuff. really like the draggin beat"
FRANKLIN DE COSTA / Mule Music / Germany
"Wow, love disorder atmosphere … full support fro me!"
DAN MELA / What Ever Not / Italy
"Great vibe – a rough and raw basement groove that hits all the right spots. Will be playing"
FISH GO DEEP / Go deep / Ireland
"Strong!"
DC SALAS/ Composite / Belgium
"I love that vibe!"
EMILE OMAR / Radio Nova / France
"nice work phil! Love that dub! Ace!"
STUBBS / Baalsaal / Germany
"That's my kind, love it"
RAFAEL MORAES / Nomumbah, Yoruba / Brasil
"its very you LOL !!! lookin 4ward to the whole mixes!"
SIMBAD / Defected, Brownswood / UK
"To use a word that has been used to death – EPIC! Love the musicality, love the vocal cuts, and the fact that you can hear both Dairmount's and Nowakowski's touch to the track!"
JONATAN BÄCKELIE / Rakkaus / Sweden
"It took me several listens before I got into this tune. But: when it hits you, it hits you BIG time! A long time companion in my records case!"
ANDI BARTH / Phonanza FM / Germany
"always look forward to RWAV music.. great quality as usual!"
FEYGIN / Composite / USA
"Always good & proper house music!"
JOHNWAYNES / Mule, Lazy Days / Portugal
"Quality stuff"
CHARLES WEBSTER / Miso / UK
"Yes, i like that deep groove in there. Oldschool housemusic as we love it"
MICHAEL RÜTTEN / Soulpatrol, Jazz Magazine / Germany
"Great Stuff!"
IGOR MARIJUAN / Ibiza Sonica / Spain
"Really nice beat. Love the wonky hip-hop influence. This one will go down a storm in the clubs"
SI TEW / Atjazz record Company / UK
"Original is very nice…as always guys"
KEV OBRIEN / Stranjjur / USA
"Wonderful. Proper house music"
DERON DELGADO / Stompy / USA

---

MEDIA

High resolution covers and press pictures are available for download in our MEDIA SECTION. If you don't have the password so far CONTACT US with detailed information about your magazine or website and activity. Thx.

---

---