DAIRMOUNT Presents RETROPERSPECTIVE 3
---
CAT No VIEWEDSPC006 / Released on February 3rd 2012
Selected & compiled by Dairmount / Artwork by Metronomic Family
---
Click the LOGOS below to DIRECTLY BUY the release in the following primary digital shops
---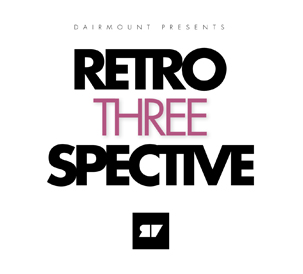 2011 has been an amazing year for Room With A view with tons of love & rewarding experiences. As this third yearly retrospective is proving, the quality level & the genuine identity of Dairmount's label has been widely approved & recognised in his second year of existence. With a constant flow of artists EP's, compilations, limited vinyl series & worldwide dj touring, the label has proved to confirm his status of promises.
Strong of the wide popularity of Art Of Tones, Andreas Saag & Lodemann who have extended considerably their fanbase in 2011, Dairmount consolidated his artist roster with upcoming producers such as Berlin's slomo duo Paskal & Urban Absolutes (Farside, Prog deep), Derby's Christo (Atjazz Record Company, Superficially Deep) or the Swedish / Polish prodigy Nowakowski, out of the Catz'n'Dogz family. Everyone of them got a splendid proof of their talent displayed here besides the tracks that have been getting the most props this year : Art Of Tones' Too Much & About Time have been topping many dj, radio & shops charts in 2011 while Resident Advisor declared Too Much, one of the most played tracks of the summer.
Lodemann's Your Choice became one of the most outstanding tracks of the producer & an unmissable dj set builder of people such as The Revenge, Manuel Tur, Jimpster & many others. Saag's Leslies vision became an instant classic of organic Techno & Phonogenic's I Woke Up With Your Hair On My Hips has been a mesmerising summer soundtrack. Without forgetting the presence of impeccable Alland Byallo (Dirt Crew, Moodmusic), Jeff Sharel (with his obscure jewel of 1997 remastered in 2011) & Iron Curtis (Mirau, JackOff) on remix duties.
---
The tracks featured on the compilation are already played and charted by an impressive list of international heavyweights including Tim Sweeney, Gilb'R, Rocky, Pezzner, Basic Soul Unit, M.A.N.D.Y, Richie Hawtin, Mike Clark, Karotte, Danny Tenaglia, Dubfire, Mark Farina, Shlomi Aber, The Revenge, Trevor Jackson, Carl Craig, Will Saul, Alex Dallas, Kolombo, Dj Hell, Steve Bug, Sian, Jimpster, Osunlade, Darko Esser, Konrad Black, Laurent Garnier, Brothers Vibe, Manuel Tur, Motor City Drum Ensemble, Brendon Moeller, Rainer Trüby, Atjazz, Mad Mats, Alex Kid, Stacey Pullen, Russ Gabriel, Charles Webster, Phonogenic, Fabrice Lig, Peter Kruder, Tiefschwarz, Gerd, Audiofly, Mad Mats, Dixon, Dj Hell, Kiko Navarro, Djulz, Technasia, Nick Holder, Slam, Estroe, Joris Voorn, Tiger Stripes, Milton Jackson, Mazi, Domu, Chicken Lips, Lovebirds, Afrilounge, Ken Ishi, Sei A, Dj Naughty, Alland Byallo, Lovebirds, Dj Disciple, Nick V, Boddhi Satva, Mark August, Cloud, Deetron, Art Of Tones, Master H, Trevor Walker, Shur-I-Kan, Technasia, Mike Clark, Audio Soul Project, Nacho Marco, Dj Yellow, Agnès, Bangana, Sebastian Roya, Recloose, Quarion, Morpheus, Liapin, Jazzanova, Lars Behrenroth, St Plomb, Murray Richardson, Swirl People, Benny Rodriguez, Dubfire, Nicolas Matar, Technasia, Jimmy Savard, Harri, Nils Krogh, Fred Everything, Leigh Morgan, Neil Quigley, Titonton Duvante, Alex From Tokyo, Motorcitysoul, Ski Oakenful, Domu, Marcus James, Markus Enochson, Alton Miller, Onionz, Rob Mello, Chymera, Alex Flitsch, Slam, Trickski, Milton Jackson, DJ Deep, Nick Chacona, Estroe, Steve Sole, Ingo Sanger, Marlow, Matt Masters, Tomas Hedberg, Vidis, Andrew Jervis, JC Freaks, Karotte, Nacho Velasco, Wamdue Kids, Willie Graff, Christoffer Berg, Gerd, Trinadadian Deep, Roberto Rodriguez, Simbad, Nick Holder…
---
MEDIA
High resolution covers and press pictures are available for download in our MEDIA SECTION. If you don't have the password so far CONTACT US with detailed information about your magazine or website and activity. Thx.
---

---