FREDERICO Y ALVARO Presents BLUE FISH
CAT No VIEW023 (digi) / VIEW016-12 (12″) / Out on November 30th 2012
A&R by Dairmount / Artwork by Alland Byallo
---
Click the LOGOS below to DIRECTLY BUY the release in the following primary digital shops
---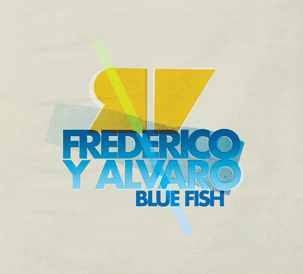 VIEW023 (digi) / VIEW016-12 (vinyl)
FREDERICO Y ALVARO
BLUE FISH
A SIDE BLUE FISH (Main)
B SIDE BLUE FISH (Dub) / BLUE FISH (Outro)
Written, mixed & produced by Frédéric Blais & Al Velilla, San Francisco
Mastered by Lynn Petrin @ Ebony Cuts, Hamburg / Vinyl Cut by Calyx, Berlin
Published by Atal / Artwork by Alland Byallo, Berlin
Dedicated to Einstein (aka Blue Fish), Lea (1994-2012) and Vincent Martin (2012)
MADE WITH LOVE BY FRED EVERYTHING & AL / A&R BY DAIRMOUNT
2012 has been a fantastic year for the label with an acclaimed serie of releases by Marlow, Matt Flores, Nowakowski & label guru Dairmount. We chosed to close the year with a very special project and we are very excited to share it with you.
Everything started during an early summer afternoon in San Francisco. Two friends were playing around in a messy studio full of analog gear. The first hours didn't lead to any inspiration till they decided to take advantage of the old CV-Gate Technology to make drum machines & synths "talk" between each others. The creative sparkle came out of the magic happening between the beloved TR606 and the SH101 and SH09. The 2 friends entered "the zone" for long hours & let their complicity & the randomness factor do the rest. And if you know that the 2 studio freaks we are talking about are none others than the Canadian house legend Fred Everything & Spanish wonderboy Al Velilla, you start to get a fantasy about the monster you are invited to listen today.Dairmount was one of the very first pair of ears to discover it and it didn't take long to become one of these "instant signings" of the RWAV history.
"The randomness factor was really important to create this piece", explained Fred. "By sending the Gate out to the SH09, we were able to randomize the pattern of the bassline by choosing the notes on the spot while the rhythm of the sequence was kept tight by the 606. The SH101 Sequence (the main sequence) was also randomized live switching the octaves up and down to give it some natural yet unexpected life. By going in these different avenues of creation and adding more layers of synths to the final result, we ended up with a truly original piece" To celebrate this nice piece, the pair decided to call the track Blue Fish as a little tribute to the code name of Fred's rescued Husky dog who became his new studio member.
This release will find a place of choice in both guys discography. After 20 years of production & djing and more than 100 releases & remixes on prestigious labels such as 20:20 Vision, Drumpoet, Freerange, Large, Seasons & his own Lazy Days imprint, founded 5 years ago, Fred is still on top of the game & touring the world intensely. Al Velilla is one of these crazy music outsiders whose music life took many turns : Al has been the A&R of OM Records, remixed Radioslave, Crazy P & Wamdue Kids and founded recently Pulselocker, an amazing digital dj service.
We are extremely happy & proud to welcome these 2 long time friends on the label, united for this timeless piece of music.
---
WHAT DJ's & MEDIA SAY…
"great banger! will give this a spin fa sho!"
GERD aka Geeeman / 4Lux / Netherlands
"Lovely bassline and synth workout"
DEETRON / Music Man / Switzerland
"the outro is awesome! really like the other version too though"
AXEL BOMAN / Studio Barnhus / Sweden
"another great release"
DE:BUG MAGAZINE
"Dope!"
NICK HOLDER / Dnh / Canada
"Lovely floating tracks"
MANUEL TUR / Mildpitch, Freerange / Germany
"Dope release to close the year. I'm really feeling the Outro version"
BODDHI SATVA / Offering, Vega / Belgium
"nice ep. blue fish is the one for me"
ANDRE LODEMANN / Freerange, Best Works, Dessous / Germany
"good spacey stuff"
PHONOGENIC / My Favorite Robot, Cocoon /Finland
"Loving this one! Very cool forward moving tune!"
ROBERTO RODRIGUEZ / Serenades / Finland
"Really like the vibe here"
ALEX BARCK / Sonar Kollektiv / Germany
"Cool EP to finish 2012″
DC SALAS / Composite, Dr Vinyl / Belgium
"Great tune !! will defo play that one, big fan of the label"
CATZ'N'DOGZ / Pets, Get Physical / Polland
"One word – MONSTER !"
SASSE / Moodmusic / Finland
"Very well put together!"
ATJAZZ / Arc, Defected / UK
"Love Blue Fish – nicely driving with the SH09 bassline – despite the chords floating in never becomes too mellow but pushes along very nicely. Looking forward to playing it!"
EWAN PEARSON / Kompakt / UK
"Great deepness and well produced"
MASTER-H / Komplex De Deep / France
"The dub mix is the pick for us here"
VIADRINA / Pets / Poland
"nice peace of hyper disco"
MATHIAS VOGT / MotorcitySoul / Germany
"really nice mellow & cute track"
CHARLES WEBSTER / Miso / UK
"Wicked release guys – loving it"
SHUR-I-KAN / Dark Energy / UK
"Beautiful and playful melodies on the original, I really love the drop on the dub and kinda like the outro for it's beatlessness, great release from the label that always delivers the goods!"
CHRISTO / Superficially Deep / UK
"love the bounce! Super nice sounding release"
LARS BEHRENROTH / Deeper Shades of House / USA
"Another deep houser for the late night sessions that will go down perfectly"
RAOUL BELMANS / Swirled, We Play House / Belgium
" this music is vital as many RWAV releases."Blue Fish" makes you dreaming when listening, which means this music is touching something in your soul and heart. and this is what real music should do"
BOGDAN TARAN / Dance Box / Latvia
"Yet anoher confirmation RWAV is justly one of my favorite labels out there, killer tune!"
LEYO / Room with A View / Netherlands
"Alvaro and Fred! A nice couple… Nice track, on between of nu disco and deep house. I like after the breakdown. Nice beats, with a addictive baseline"
NACHO VELASCO / Garito Café / Spain
"Harmonic, melodic & also a mindtrip. Realy a great ep once again from my favourite label. Pure quality"
BETA BOY / the Freaks Show / Greece
"Excellent release, cool groove and solid beat! Feeling the dub one… Looking forward to spinning this in my xmas set with Santa!"
CARLO / Neovinyl / Spain
"Liking this EP. Track 2 does it for me and the outro is a useful DJ tool too"
MATT MASTERS / Freerange / UK
"Great track from my friend Alvaro and Federico, nice to see you are releasing a track from a friend of mine, i will support it, not for that reason, because is a very cool track!"
KIKO NAVARO / Pacha / Spain
"Another pure quality product from Room With A View! I love the original mix"
MAX LOMOV / Phonetica, Amber Muse / Latvia
"Dope!"
FELIX CAGE / Electronical Reeds / Belgium
"Liking these…"
SLAM / Soma / Scotland

---

MEDIA

High resolution covers and press pictures are available for download in our MEDIA SECTION. If you don't have the password so far CONTACT US with detailed information about your magazine or website and activity. Thx.

---

---