MARLOW Presents THIS IS IT
CAT No VIEW019 (digi) / VIEW013-12 (12″) / Released on June 7th 2012
A&R by Dairmount / Artwork by Alland Byallo
LIMITED VINYL EDITION AVAILABLE IN OUR SHOP AND ALSO AT DECKS.DE / JUNO RECORDS
---
Click the LOGOS below to DIRECTLY BUY the release in the following primary digital shops
---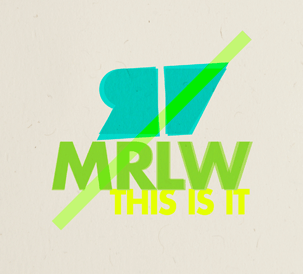 Marlow is one of these music makers who takes the time to shape up his precious output. It has been nearly two years since his widely acclaimed 'Put Off' EP on RWAV made a strong impact on all kinds of connoisseurs. The EP soon became a favourite of the RWAV fans and beyond. This is why Marlow's return has been awaited by many. This is also why there will be no disappointment.
Marlow's early works on Tanzmann's Moon Harbour, his appearance on Dennis Ferrer's Objektivity or his productions and remixes on Room with a View are profound testimonies of his unique way to spread his love for deep and obscure black music, combined with a natural sense of crafting genuine house music. Collaborating once again with the crew that offered us the epic 'Put Off 'track, Marlow perfectly unites the hip hop production attitude of ComixXx and the lyrical swing of Knixx on 'This is it's' title track.
The leftfield disco flying saucer loaded with catchiness and extra swing will definitely bring goosebumps to the neo disco community, as the early excitement of afficionados like The Revenge or Tensnake proves. As usual, Marlow loves to deliver a moody number perfect for the morning hours. 'Keep On' doesn't fail in providing loads of reverberating atmosphere and attitude. On the flipside Marlow serves thé track which has already earned its spurs on the dancefloor eversince its early tests in Dairmount's dj sets. 'Need U' is the kind of track that turns heads and instantly creates love.
The buzz has been huge on this one as it generated a wave of early requests at the RWAV office from none other than Axel Boman, Rainer Trüby or Jimpster . Predicted as one of the tracks to breakthrough at the legendary UK Southport Weekender, 'Need U' will probably appear in many sets this summer…
---
DJ & MEDIA FEEDBACK
"supercool release! i love this "dry" soulmusic, no hiding behind reverbs or efx's, total confidence and great songs! need u is so so good. and the outro!!!! wow!"
AXEL BOMAN (Pampa, Studio Barnhus, Sweden)
"Both, This Is It and Need U, sound like potential summer hits. Gonna play both. Ladies gonna love it."
VIDIS (Best Kept secret, LIT)
"Masterpiece !!! Obviously this is another very strong EP from Marlow. No doubt we'll hear "Need U" everywhere this summer, but This Is It and Keep On are in my playlist too."
ART OF TONES (RWAV, FR)
"all killers, never lets me down!"
GILLES PETERSON (Worldwide, Brownswood, UK)
"Solid EP, love all the tracks, "Keep On" is a great mid-tempo groover, and "Need U" will definitely be something I can use this Summer"
FRANCOIS K (Wave, US)
"I love This is it, excellent bassline and great vox!"
DEETRON (Music Man, Switzerland)
"really cool guys and very good production!"
CATZ'n'DOGZ (Pets, Poland)
"Superb deepness as always — pure quality ep"
LAURENT GARNIER (Pias, France)
"Need U is simply magic…congrats on this release"
FUNK D'VOID (Urbantorque, Scotland)
"Quality deepness top to bottom"
RON BASEJAM (Smoke'n'Mirrors, Winding Road, UK)
"This Is It is SICK! the whole EP is great!"
JOHNJON (Suol, Germany)
"ooohh, this is hot, like this!"
SHIT ROBOT (Dfa, USA)
"Loving it"
THE REVENGE (DOG, IOR, UK)
"Lovin that funky raw feel! Supported Dropping this is it at the Detroit Movement tomorrow"
MIKE CLARK (Third Ear, US)
"Cool release"
JOAKIM (k7, Tiger sushi, France)
"the whole e.p is pure class"
FABRICE LIG (F Com, Belgique)
"All around excellent release. Always looking forward to Marlows new work. This def does not disappoint. 10/10 for RWAV once again!"
FEYGIN (US)
"again a nice EP from Marlow"
ANDRE LODEMANN (Freerange, Best Works, RWAV, Germany)
"This is it* for me"
KOLOMBO (Systematic, Kompakt, Loulou, Belgium)
"This most certainly IS it!! lush, deep, warm and down-right sexy"
KEV OBRIEN (Stranjjur, USA)
"excellent..all over this its mint"
CLIVE HENRY (Peace Division, UK)
"super classy release…'this it is' is a killer!"
ALEX FLITSCH (Connaisseur, Germany)
"love this a lot!"
ROB DA BANK (Sunday Best, UK)
"Super release!!! love all tracks, Marlow is rocking !!
KYODAI (Freerange, Local Talk, Spain)
"'This is it' is super!"
DOWNTOWN PARTY NETWORK (Eskimo, Under the Shade, Estonia)
"Fine EP! i like 'need u' and 'keep on'…quality deepness"
CHARLES WEBSTER (Miso, Defected, UK)
"Killer EP – all tracks are finely crafted – respect"
SASSE (Moodmusic, Finland)
"Really blessed to be on your promo list! Great to see a new return from Marlow. Big fan since a while. Deeper und geiler gehts night!"
RALF KOLLMANN (Mobilée, Germany)
"hard to choose a favorite one as all track rock"
EMILIE OMAR (Radio Nova, FR)
"More Great tracks from Marlow! Support !"
JON CUTLER (Distant Music, US)
"The whole thing oozes sex and quality! Also: Lovely to see an EP come with an intro and outro, that are both cool and intriguing"
ERNESTO (Exceptional, SWE)
"very groovy!"
TOSHIO MATSUURA (UFO, Jap)
"Oh what a lovely release this one is. Digging every single track!"
ROBERTO RODRIGUEZ (Serenades, Delusions Of Grandeur, Finland)
"Loving the Intro and the Outro, thinking of making extended Edits to play out"
AERA (Aleph, Circus Company, Germany)
"This is super release front to back"
PHONOGENIC (Moodmusic, Cocoon, My favorite Robot, Finland)
"Holy sh*t, this is dope. Didnt expect much before I hit the play button, but from the first sec on I was surprised. Keep On is my joint, would go straight into my playlist! Good stuff, boys!"
MANOO (Real Tone, Papa, Foliage, France)
" only select a favorite because it's required .. all of these tunes are brilliant joints that are going right into the crate! Marlow is indeed a talented chap and we really enjoy his output over here at Kolour. All the best of returns with this release, Phil & company & expect nothing but the fullest support from us!"
MIKE W (Kolour, USA)
"Marlows new EP really oozes quality from the beginning to start, "keep on" is my pick of the pack – I even love the intro and outro! You can really hear the amount of time that has been dedicated to this, what a lovely release!"
NOWAKOWSKI (RWAV, Pets, Sweden)
"'Need U' has the funk in large amounts. Love the boogie bassline and pianos. The whole EP is great though!"
BEN MURPHY (Dj Mag, UK)
"Fantastic release from Marlow. Can't wait to spin this out"
MAD MATS (Local Talk, Sweden)
"great tracks"
JUSTIN MONTAG (iTunes US, USA)
"Cool stuff"
AGNES (Stlh Audio, Switzerland)
"super dope ep"
ANTHONY COLLINS (Freak'n'Chic, France)
"What a talented producer…I'm a Marlow fan!"
MASTER H (Komplex De Deep, Soma, France)
"This is it" is so f……g funky & great, love this tune already. but the rest is cool as well. great release. will support for sure"
SPACE RANGER (Lovemonk, Germany)
"Really nice EP. Solid tracks as always from Marlow"
MIKE STELLAR (Lovemonk, RBMA, Portugal)
"Great EP, chunky, funky and deep"
ENNIO STYLES (Stylin show, Australia)
"Marlow comes out with another winning EP of soulful, future dance grooves; love this! Can't wait to mix some of the tracks in….well done"
VELANCHE STEWART (KCPR radio, Usa)
"Great EP"
TSUGI MAGAZINE (France)
"great work again…will def play them out loud"
SOULPARLOR (Faces, Bagpak, Tokyodawn, Germany)
"i always like marlow`s stuff..for me the intro and keep on!"
STUBBS (Baalsaal Records, Germany)
"Another killer EP from Marlow. This Is It and Need U are going to do all sorts of damage on the dance floor. Will feature on next weekend's radio show and clubs"
FISH GO DEEP (Go Deep, UK)
"absolutely fantastic release!! great package overall"
INGO SANGER (Farside, Germany)
"Intro, Keep On & Need U are my favourites! Big release! Will definitely play and support!"
PABLO VALENTINO aka CREATIVE SWING ALLIANCE (Faces, MCDE, France)
"yeah yeah! this is it, and i mean this…this tracks will be dropped on my next venues as well as on my next metaworld FM show"
MATT FLORES (RWAV, Farside, Germany)
"Nice to have Marlow back"
HIRO (Soletronic, Scotland)
"cool grooves – will spin for sure"
SLAM (Soma, Scotland)
"lovely. marlow at his best"
ELIE EIDELMAN (Jack Off, Israel)
"Perfect release!"
JAVIER CARBALLO (Rebel Electronic Dance Club Radio)
"Sounds wicked, deep and very old school"
ANDY BAXTER (Pacha Club Ibiza, Spain)
"Once again we have great stuff here. Amazing deep house music with an old school touch. Always quality sound from Marlow. Full support from the "Freaks Radio Show" Our love from Greece."
BETABOY (The Freaks Radio Show, Greece)
"I already have heard "Need u", cause Rainer Trueby play it on Southport Weekender. Great tune! but I think "This is it" will be my fav. Looking 4ward to play it tomorrow in Garito!"
NACHO VELASCO aka BASSFORT (Freerange, Local Talk, Garito cafe, Spain)
"Epic release…beautiful vibes…amazing feelings….wonderful sounds. The 3 main tracks all work, but those keys on "Need U" just do it for me"
DA WISEGUY (Pulse Radio, Australia)
"Another top quality release from RWAV, this time delivering a solid EP from Marlow. I really like his past EPs, but this time I'm impressed, my choice is "Keep On" with its deep sounds, but "Need You" is a bomb, for sure"
RAFAEL MORAES aka NOMUMBAH (Yoruba, Defected, Brazil)
"Wow, stunning EP, every track has a great flavor, will be spinning 02 and 04 mostly. Thanks so much for the music!"
SWILRL PEOPLE (Aroma, Belgium)
"Well done EP. Nice analog sound. Keep On is my pick"
WERNER NIEDERMEIER
"this EP is fire! all cuts are amazing! 'Need U' is the dopest!"
ADHAM ZAHRAN (Space Breaks, Phil, Moodmusic, Egypt)
"Love Marlow from the get go ! 'Keep On' oozes that original deep moody House Sound that real heads love ! Turn off the lights and blast the music now !"
IRFAN (Rainy City, UK)
"Nice release, difficult to say which track is the best, cause they're all good.But 'Need You' if i really have to choose one.
The outro is a success !! Keep up the good job while enjoying the sun rays"
RIM-K (FM Brussels, Belgium)
"NEED U is amazing! Full support on all these. The production is fantastic!"
GIOM (Lost My Dog, UK)
"Some real nice deepness going on here. Love the Intro and Outro. Really the way the TRAMAINE accapella has been used here on "Need U"
DAZ I KUE (Bugz in The Attic, UK)
"Feeling "Need U""
JULIAN GOMES (Atjazz Record Company, UK)
"sehr schön, sehr deep, klasse! freut mich, dass es MARLOW noch gibt! full support, plays, charts!"
MATTIAS SCHAFFHAUSER (Ware, Germany)
"Really nice summery package from Marlow, will definitely play out during the summer"
MR STATIK (B Pitch Control, Greece)
"Massive new EP from RWAV & Marlow, really hard to make a choice, all tracks inclus intro & outro are lovely, so Need U & Keep On are my favorites, RA Chart & will play for sure a long moment"
GWEN (Space Breaks, France)
"Always followed Mr. Marlow carefully and once again I am very satisfied with his work. An really strong EP, to be used in all tracks. I really like "Intro" and it is a pity that it lasts longer, perhaps in a future release it will taste the continuation.
Intelligent track "This Is It" which also covers the needs in the club: even if voice does not make me mad, the groove of this song has the ability to support and engage the dancers. Full support and congratulations for this unmissable project"
DAN MELA (What Ever Not, Italy)
"Love this , Raw Deep Tech ! This is it & Need U Are my pics"
CHRIS UDOH aka WAMDUE KIDZ (Strictly Rhythm, US)
"need u is great! this is quality staff!! will try test it asap"
CARLOS SANCHEZ (Supernature, 8Bit, Spain)
"Great pack!"
MICHELLE OWEN (Moodmusic, Australia)
"Excellent EP, familiar but fresh sounding. Love the production"
DAMIAN HARRIS (Skint, UK)
"Really love Marlow stuff. deep, organic and sweet. THIS IS IT! so good!"
JOHNWAYNES (Mule Music, Portugal)
"Always love Marlow's stuff and this is no exception.Quality black sounding music with a strong whiff of Kenny Dixon Jnr"
DARRAN NUGGENT (Proton Radio, UK)
"Great ep with such nice phat beats ! Oldschool touch for our pleasure !"Keep on " is my fav"
ROCCO (Foliage, Defected, France)
"they are all really good for me"
HARRI (Subclub Glasgow, Scotland)
"Wow. Strong release. Will play it a lot this summer"
DC SALAS (Dr Vinyl, Composite, Belgium)
"Groovy stuff! Keep On for me"
FELIX CAGE (Electronical Reeds, Belgium)
"from the first listen i felt in love with marlow´s sound. its very serious music for mind body & soul…also big respect goes to the label keepin the quality high with evrey single release"
LEMON POPSCICLE (White Rabbit, Germany)

---

MEDIA

High resolution covers and press pictures are available for download in our MEDIA SECTION. If you don't have the password so far CONTACT US with detailed information about your magazine or website and activity. Thx.

---

---