MATT FLORES Presents TRUST
CAT No VIEW020 / Released on July 27th 2012
A&R by Dairmount / Artwork by Alland Byallo
---
Click the LOGOS below to DIRECTLY BUY the release in the following primary digital shops
---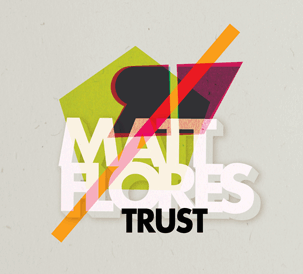 At the time of reading these lines, you probably know already what values Room with A View has been representing for three years now: club music that aims to survive the test of time, music that transports a strong identity & emotional content, music that ignores hype & trends, rooted in a tradition of Black Music influences and transporting a hybrid vision of genres & definitions. These are qualities that our family of artists have represented proudly all along the way and our Dusseldorf friend, Matt Flores, is no exception to our artistic mottos.
Despite the fact that Matt started his sound experiments nearly 20 years ago, we remember discovering his talent for hybrid club music in early 2000's when his Metaworld album appeared on the now defunct Combination imprint, combining his love of the Black Music tree with a futuristic vision, flirting with UK Garage & Detroit soundscapes. The man always loved bass with a big B & demonstrated it many times in his discography. This is how his work naturally found its way to respected labels such as Compost, Deeper Shades or Farside, displaying also the versatility of his sound.
2012 looks like a busy year for Matt with releases coming on the new label Visky, the mysterious Love Unlimited vinyl-only imprint or the always vivid Liebe Detail. All this in between other projects touching on interdisciplinary art: contemporary dance & theatre, which always keep Matt's open mind hungry.
Amongst all this activity, Matt nevertheless kept 2 very personal tracks on his hard drive to present to Dairmount 1 year ago. It didn't take long for our A&R guru to fall in love with Heading On, an irresistible deep house groover enchanted by the harpist vibes of Meike Rath (who took part in sessions with Matt). The track became an instant favourite of Dairmount's DJ sets and has been played from Istanbul to Amsterdam since then. The same applied to The Fields, a fierce & ballsy hypnotic number echoing Matt's love for Detroit & Chicago House vibes.
These 2 weapons of choice have been joined more recently by two other excellent pieces of deepness : Indigo Child and In Between Days, two catchy late night nuggets of the highest order that can find their place in sets & playlists of many tasty DJs.
---
WHAT DJ's & MEDIA SAY…
"lovely fuzzy house with melodies – thats just my style! ill play "in between days" on friday!"
AXEL BOMAN / studio Barnhus, Pampa SWE
"Brilliant EP from Matt Flores. All the tracks display great musicality and attention to detail, carrying a very unique style all his own. I am totally in love with "The Fields," but all tracks are top. Good form once again from the mighty RWAV!"
ALLAND BYALLO / Bad animal, Dirt Crew, Pokerflat US
"Lovely EP!"
DEETRON / Music Man SWI
"gr8 release from matt! all tracks are fine but 01 is my fave. well done!"
GERD / 4Lux Black, Clone NED
"Always been a fan of Matt's stuff and i think this is the most impressive I've heard yet. really lovely four tracker and definitely something i can play and support. nice one!"
JIMPSTER / Freerange UK
"Killer EP – full support !"
SASSE / Moodmusic FIN
"Nice tight productions, The Fields being the stand out from the EP"
CRAIG SMITH / 6th Borough Project UK
"Another mighty fine ep. Great sound and mood across all tracks. The Fields sounds like the one for my dancefloors, closely followed by In Between Days. Will be playing both on radio and in clubs"
FISH GO DEEP / Go Deep UK
"Any of these tunes will sit very nicely in one of my sets"
PEZZNER / Freerange, OM Records US
"Absolutely Beautiful release by RWAV & Matt Flores, especially Heading On for me, just crazy"
GWEN / Space Breaks FR
"Pheww…what an EP here…i can feel the experimented producer Matt is…Sounds Dope and tight all the way…Will def play…Like the whole ep but The Fields is a beast!"
MASTER-H / Soma, Komplex De Deep FR
"Very solid EP from Matt, every track shines in it's own way here, but I especially feel the vibe in "The Fields"! Proper club material – it's really playable!"
NOWAKOWSKI / Room With A View, Pets SWE
"Wow…massive set tracks. Everyone stands out on their own but I feel "indigo child" a little extra…right now…this might change"
MAD MATS / Local Talk SWE
"Been ages since I've heard from Matt Flores; good to know that his sounds are as tight as ever! Snappy EP, indeed"
VELANCHE / Urban Soundscapes US
"really lookin 4ward to play this, chartin too"
SIMBAD / Brownswood UK
"quality stuff from matt and roomwav!"
SCOPE / seven Music UK
"Amazing work. The field is already deep in my heart. Great ep at all. Full support"
BETA BOY / Freaks Radio Show US
"Never disappointing label? Yes, this is. I am fond of track 01 and 03 but over all very strong EP that I will use for sure!"
SWIRL PEOPLE / Aroma BE
"Feeling The Fields"
MANUEL KIM / Gomma GER
"Great sounding E.P. I love the toms in the end of The Fields, pleas give me more… "
JOEL ALTER / Bassculture SWE
"Liking The Fields track. Perfect warmup material"
SEI A / Kompakt SCOT
" I Guess this is how it should sound like nowadays"
ALEX BARCK / Sonar Kollektiv, Derwin GER
"quality ep of modern house vibes"
CHARLES WEBSTER / Miso UK
"the fields is great! good to see matt on rwav!"
PASKAL & URBAN ABSOLUTES / Sonar Kollektiv, Visky GER
"Love "The Fields" ! Nice work again Phil & Room With a View crew! Always a pleasure to hear from you/receive your promos"
CREATIVE SWING ALLIANCE / Mcde FR
"really lovely and touched all the right places"
ELIE EIDELMAN / Jackoff IS
"Nice EP! will test it out!!
KOLOMBO / Systematic BE
"Gutes package, soulful, deep und wie üblich gut UK-geschult…"
KLAUS FIEHE / Eins Live GER
"again, another delightful collection of tunes that will all be finding their way into rotation. i'm actually STILL trying to decide which marlow cut i like most from the last release, ha! seriously though, another nice serving of proper deep house business that i will be enjoying for the foreseable future. bravo to everyone involved! all the best of returns with this great release!"
MIKE W / Kolour Recordings US
"Damn! Indigo Child is one tasty biscuit, loving this one! also diggin' The Fields and In Between Days. Great stuff guys!"
ADHAM ZAHRAM / Space Breaks, Moodmusic EG
"f$ck yeah! all tracks solid .. standing out are The Fields and Hanging On"
LARS BEHRENROTH / Deeper Shades US
"Another strong release from RWAV. "The Fields" and "In Between Days" are my favs, full support!"
RAFAEL MORAES / Nomumbah, Yoruba BR
"my friend Matt with a killer release… Congrats & Big Up!"
INGO SANGER / Farside GER
"Great collection of tracks. Wraps you in a deep mood"
DERON DELGADO / Stompy US
"Another great release guys…The Field and In Between Days are killer"
SAHIN MAYER / Deep Absurdum UK
"Thanks for this nice trip!!! Back from outta space…"
JEAN JEROME / FG Radio FR
"Something for the audience, and something for home listening – as is customary with RoomWAV! Heading On and In Between Days are the ones that'll go in the box for the summer! Indigo Child is probably my personal fave though. Really like the quirky lead synths on top of everything"
ERNESTO / Best Kept Secret SWE
"great stuff. full spport from me"
IGOR MARIJUAN / Ibiza Sonica SP
"Will definitely play "The Fields" but beautiful deepness overall this ep!"
DC Salas / Composite, Dr Vinyl BE

---

MEDIA

High resolution covers and press pictures are available for download in our MEDIA SECTION. If you don't have the password so far CONTACT US with detailed information about your magazine or website and activity. Thx.

---

---