NOWAKOWSKI Presents MAGENTA
CAT No VIEW021 (digi) / VIEW014-12 (12″) / Released on September 21st 2012
A&R by Dairmount / Artwork by Alland Byallo
---
Click the LOGOS below to DIRECTLY BUY the release in the following primary digital shops
---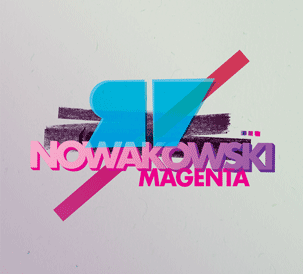 Two years ago Dairmount got hooked on the fresh sounds of a young producer/DJ by the name of Martin Nowakowski. The first result of their artistic collaboration was the 'Reframe EP', a 4-tracker whose mesmerizing sounds grabbed the attention of quite some dignitaries of the international club scene such as Jimpster, Laurent Garnier, Steve Bug, Gerd and Simbad.
Living the A&R to the fullest, Dairmount worked closely with Nowakowski to further develop his vision and sounds. After sophomore EP's from Art of Tones and Marlow, Room with a View now proudly presents 'Magenta', Nowakowski's follow up to last year's 'Reframe'.
As a colour, magenta represents the artistic union of the energetic red and the introspective violet, which is demonstrated in the 5 different shades of the artist on this EP. 'Magenta 1' is a light-hearted house banger, built around a sexy disco sample, whereas the vibes of 'Magenta 2' take us into minor musical territory.
'Magenta 3' delivers the very same hypnotizing trademark sounds we were introduced to through Nowakowski first RWAV EP . 'Magenta 4' represents a deep bounce, with intriguing bleeps and cut-up vocals. Finally Nowakowski's love of Detroit is displayed through the abyssal synths and bouncing beats in 'Magenta 5'.
The 'Magenta' EP displays a sonic portrait of the artist as a young man, it's a freshly sounding blueprint of what's to come. The future is bright, the future is … magenta.
---
WHAT DJ's & MEDIA SAY…
"solid release.. i favoure magenta 4 the most but all really have the neccessary dirtyness which i love in house music.."
CHOPSTICK / Suol / Germany
"They all have their moments, but 03 is the hands down floor stonker of the bunch…"
RECLOOSE / Rush Hour, Delusions Of Grandeur / USA
"I really like this guy's take on electronic dance music. basically love tracks 01, 04 and 05…. in fact all tunes are great. well done again!"
GERD / 4Lux Black, Philpot / Netherlands
"Real nice cuts on this EP. Feeling the Roy Ayers vibing on Magenta 2″
CRAIG SMITH / 6th Borough Project, Delusions Of Grandeur / Scotland
"Every track is a winner!! Great EP guys"
SHUR-I-KAN / Dark Energy, Freerange / UK
"I really like Magenta 5. This one is for me!"
NACHO VELASCO / Bassfort, Garito Café / Spain
"Once again killer release from one of my fav labels"
MASTER-H / Komplex De Deep, Soma / France
"Magenta 1 and 4 getting played tonight in Café D'Anvers (night with Move D). I simply love this release. Full support!"
RAOUL LAMBERT/ Aroma, We Play House / Belgium
"SHEEEEEEEEEEIT . Nowakowski is baaaaaaack !!!!!!!!!!!!!!!!!!! Cant wait to play this !"
SIMBAD / Defected, Brownswood / UK
"Dirty grooves indeed, really love 4 and 5 but overall amazing quality"
SASSE / Mood Music / Finland
"Magenta 1 is an instant super sexy hit with the soulful sample and amen break jazzy 909 rides biz. Lots of great techy sounds on the other tracks, Magenta 3 is a sonic monster"
ANDREAS SAAG / Freerange, RWAV / Sweden
"Good one. As always rwav highest quality stuff"
JI-HUN KIM / Debug Magazine / Germany
"Magenta 1 is heavy, will play tonight in SF"
FRED EVERYTHING / Lazy Days / Canada
"Nice collection of grooves. Really liked magenta 01″
ART OF TONES / Room With A View / France
"Really enjoying the vibe of the Nowakowski's stuff. Magenta 4 is my immediate fave"
JOHN DONAGHY / Beatport / USA
"It is positively impossible to choose a favorite of these tracks! I love the new even funkier, less techno-oriented side of Nowakowski! Shows that he's far from a one trick pony. Although, that would still have been a very funky pony"
JONATAN BÄCKELIE / Rakkaus / Sweden
"Really cool tracks"
SLAM / Soma / Scotland
"Awesome release"
THE QUANTUM MECHANICS / Composite, Unfokused / Sweden
"Love the fusions here, can hear really unexpected elements like a distant echo of Jeff Mills in Magenta 3… I think Magenta 1 will get great reactions though, the link between 'future jungle' and deep house/techno is brilliantly drawn"
JOE MUGGS / Mixmag, Sound of The Cosmos / UK
"My goodness, "Magenta 3″ hit me straight away. This is one of the finest house tunes I could possibly think of. There's a lot of unbelievable percussion madness going on, sampling at it's best and full thriving chords I was hooked on from the beginning. WOW!"
ANDI BARTH / Phonanza FM / Germany
"Another great RWAV release for the crate. track 01 is probably my favorite of the lot. such a nice, infectious groove and perfect for my sets. make no mistake though .. the whole EP is proper quality but what else do you expect with a RWAV release"
MIKE W / Kolour, Undertones / USA
"Love it and will try it out tonight!"
MANUEL KIM / Gomma / Germany
"Nice deep vibes,Diggin the artist"
MIKE CLARK / Third Ear / USA
"Magenta 4 is very cool"
CHARLES WEBSTER / Miso / UK
"Wow. All of this is fantastic"
SEI A / Simple, Kompakt / Scotland
"Great EP! Nice mixture of more experimental sounds but also accessible stuff for the clubs. 4 and 5 are sounding great to play out. will be trying out at this weekend and will include in my charts…"
JIMPSTER / Freerange / UK
"wow, very original production, very cool! really feeling the use of room reverbs (room with a verb?) and the phunky athmospheric deep shit. nice phat beats… will play out for sure"
RISE ASHEN / Balance / Canada
"Hot Release !! ALL ARE GOOD I Love the dreamy & hypnotic vibe of Magenta 2 the best"
WAMDUE KIDS / Strictly Rhythm / USA
"Im liking them all"
HARRI / Subclub Glasgow / Scotland
"Sounds great! Nr 1 is the one, very childish but nevertheless irresistible…"
JOEL ALTER / Bassculture, Kontramuzik / Sweden
"Magenta 1 is the colour here for me….but other shades as well"
MICHAEL RÜTTEN / Soulpatrol, Jazz Magazine / Germany
"nice raw productions. Magenta 2 is my fav of the bunch"
MARK AUGUST / Curle, Connaisseur / Netherlands
"Great Stuff!"
IGOR MARIJUAN / Ibiza Sonica / Spain
"All quite interesting tracks. I think 1 and 5 though will do the business on the dancefloors. Full support."
MATT MASTERS / Freerange / UK

---

MEDIA

High resolution covers and press pictures are available for download in our MEDIA SECTION. If you don't have the password so far CONTACT US with detailed information about your magazine or website and activity. Thx.

---

---