PABLO VALENTINO Presents ONE (with DETROIT SWINDLE PERSPECTIVE)
CAT No VIEW025 (digi) / VIEW018-12 (12″) / Released on May 24th 2013
A&R by Dairmount / Artwork by Alland Byallo
---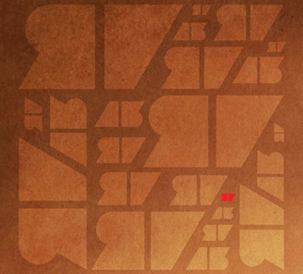 VIEW025 (digi) / VIEW018-12 (vinyl)
PABLO VALENTINO
ONE (incl. DETROIT SWINDLE PERSPECTIVE)
A Pablo Valentino / One
B Pablo Valentino / One (Detroit Swindle Perspective)
Written, mixed & produced Pablo Valentino, Strasbourg
Remix & additional production by Detroit Swindle, Amsterdam
Mastered by Lynn Petrin @ Ebony Cuts, Hamburg
Distributed by Prime Direct and Finetunes
Artwork by Alland Byallo, Berlin
A&R by Dairmount
MADE WITH LOVE BY PABLO VALENTINO and DETROIT SWINDLE A&R BY DAIRMOUNT
We are very happy to welcome our old friend Pablo Valentino for the second release of 2013. It is no coincidence if Pablo & Dairmount hooked up nearly 10 years ago when Pablo started his imprint Faces, dedicated to leftfield Black music influenced soundscapes rooted in Hip Hop culture. Both sharing a strong sense of underground activism, a deep love of the Black Music tree and a lovely obsession for futuristic sounds, it is no surprise that these two naturally decided to join effort under the Room with A View umbrella.
Pablo's beatmaker science & love of sampling have always been highly appreciated by Phil and it didn't take him long to fall in love with One at first listening. The track displays perfectly the dusty roughness of heavy disco grooves that Pablo likes to give to his House productions. Low key harmonies & catchy Soul & funk samples are no strangers in Pablo's world. True to a spirit reminiscent of the famous Raw Cuts serie of Motor City Drum Ensemble, it is again no surprise that Valentino has been a long time friend & collaborator of Danilo Plessow. Both through their Hipsta Wonkaz production duo (on Faces & Ubiquity) & Pablo's long running curation of Danilo's work on Faces & MCDE Recordings, both friends paved a unique & personal path.
As an A&R, Pablo has pushed the envelope with other unique sound scientists such as The Revenge, RedNose Distrikt or Grooveman Spot. In recent years, Pablo created the Creative Swing Alliance duo with Steven Joyce Ames with who the Strasbourg based omni-man signed brilliant works & remixes on respected labels such as Tsuba, Wolf Music, City Fly, Endless Flight, Quintessentials or K7.
Next up, Pablo's monster original received the magic treatment of Amsterdam's finest Detroit Swindle. One of the hottest dj & production units of the global House scene confirms here why labels like Freerange, Saints & Sonnets or Dirt Crew went bananas to sign their early work. The Dutch duo has made a spectacular & fast rise and is already in high demand all over the planet. Their inimitable blend of melodical grooves, jazzy chords and bumpy bass-lines seemed to be tailor made to translate a new school approach to Pablo's rooted original tune.
---
Our limited edition vinyls will be available at Juno Records UK / Deejay.de GER / Decks GER / Phonica UK
Also available in our SHOP
Click the LOGOS below to DIRECTLY BUY the release in the following primary digital shops
---
WHAT DJ's SAID
Scuba (Hotflush)
Love Detroit Swindle
Deetron (Various)
Very nice DS remix!
Totally Enourmous Extinct Dinosaur (Various)
nice one detroit swindle !
Tensnake (Running Back/ Mirau Musik)
Detroit Swindle can't do bad things, funky remix, thank you. 4/5
Josh Wink (Ovum)
Some recycled and inspired 90's nyc house made in a contemporary flair. Interesting!
Huxley (Hypercolour/ Saints & Sonnets)
DS is my pick for sure.
Agoria (Various)
superbe groove
Tom Findlay (Groove Armada/ Hypercolour)
both mixes are great, maybe Detroit swindle pips it by a nose 5/5
Jacques Greene (Vase)
Detroit Swindle keep their streak going with this one… damn
Dirt Crew (Dirt Crew Records)
Yes Yes Yes!!! 5/5
DJ Deep (Various)
Nice tracks
Mathias Kaden (Vakant)
cool!!!!!! thanksss 5/5
Mark Henning (Cityfox/ Soma)
very nice
Hrdvsion (Wagon Repair/ Rinse)
nice work on both tracks!
Tedd Patterson (Vibal)
This is cool! Both tracks
Guy Andrews (Hemlock/ Hotflush)
Love this! 4/5
Hackman (Ramp/ Well Rounded)
loving the detroit swindle mix
Xxxy (Rinse/ Well Rounded/ Ten Thousand Yen)
wicked remix
Outboxx (Idle Hands/ Well Rounded)
banger 5/5
Miles Sagnia (Aesthetic Audio)
detroit swindle perspective for me
Jef K (Silver Network)
really cool old school house right here !!! like like
James Fox (Well Rounded/ Futureboogie)
detroit swindle remix is nice, strong club track. original is also good, like the drums.
CRock (Motorcitysoul)
nice, vinyl and deepness, the perfect combo!
Johnjon (SUOL)
Both tunes are good stuff … thx!
Basic Soul Unit (New Kanada)
digging the original
Waifs & Strays (Futureboogie/ Hot Creations)
Good release. thanks
ShurIKan (Freerange)
great package both original and detroit swindle mixes are doing it for me! 5/5
Shadow Child (Dirtybird/ Food Music)
big fan of detroit swindle mix!
Kyodai (Local Talk)
nice single of Pablo great remix too ! 5/5
Eliphino (Somethinksounds/ Hypercolour)
Feeling both the original and the remix!
Christophe (Futureboogie)
Love it!!
Danielle Moore (Crazy P)
ABSOLUTELY LOVE IT. Both original and remix. Great vibe wicked bounce to the groove and quality overall thank you. 5/5
Alex Coulton (Idle Hands/ Hypercolour)
yeah this is sick. big thanks
Audiojack (20:20Vision/ Gruuv)
Nice rework from DS! 4/5
El_Txef_A (Fiakun/ SUOL/ Hypercolour)
The remix is massive!! 5/5
Droog (Culprit)
Love the Detroit Swindle remix on this one.
Chrissy Murderbot (Planet Mu)
THIS IS FUCKING FANTASTIC 5/5
C.R.S.T (Local Talk/ Well Rounded)
Bad 4/5
Alland Byallo (Poker Flat/ Bad Animal)
Super dope. I love the original.
Bonar Bradberry (PBR Streetgang)
slammin
Ekkohaus (Morris Audio)
Detroit Swindle remix rocks, thanx….
Citizen (MadTech/ Love Fever)
Detroit swindle remix all the weezay
Deepchild (Trapez/ Opossum)
Detroit Swindle bring some solid boombap to the housetemplate here…
Ed Bayling (Behling & Simpson)
great stuff. i bloody love Room With a View. 5/5
Anthony Collins (Curle)
lovely release original is a groover
KRL (Wolf Music)
great EP, both tracks are winners
Severino (Horse Meat Disco)
DOPE. Both mixes are awesome …Quality!! 5/5
Joyce Muniz (Mood Music/ Exploited)
nice one
Sam Simpson (Behling & Simpson/ Futureboogie)
original has lots of great drums!
Dan Drastic (Moon Harbour)
Love both tracks very much. 5/5
Charlie Banks (Dirt Crew)
Detroit Swindle version is my pick!
Dubble D/ Moodymanc (Tsuba/ 20:20 Soundsystem)
nice vibes… will try
Friend Within (Dirtybird/ Pets)
Love that Detroit version!!
Forget Me Not (Losing Suki/ Defected)
Love the pads on this one…
Billy Disney (Pets)
oooh, proper loveliness, both sides are dope, the a sides raw , percussive slink edges it for me! 4/5
Florian Kruse (Kruse & Nuernberg)
NICE ONE! Absolute coolness!
Ali Herron (OOFT!)
Lo slung business with that Crown Heights Affair drum loop
Original will be straight in the bag. 4/5
Ben Terry (Tirk Records)
Swindle retro vibes on this one for me
Harri (Sub Club, Glasgow)
liking both 4/5

PRESS
Thaddeus Hermann (De:Bug/ Radio Fritz)
solid
Michaelangelo Matos (RA/ The Guardian/ Rolling Stone/ Spin)
Love the DS remix. 4/5
Victor FL (DJ Mag, Spain)
Great single, very hard to choose a fav…
Michael Leuffen (Groove, DE)
swindle is nice
Benoit C (Tsugi Mag, France)
coool remix
Bleed (De:Bug)
considering for review

RADIO
Andy George (BBC Radio 1)
Detroit Swindle mix is dope
Charles Webster (Ibiza Sonica/ Samurai FM)
nice old school vibes..thnx
Will Turner (Radio Galaxie 95.30FM, France)
More than perfect !!!!! Full support in my radio show Switch House hosted by Galaxie 95.30FM
5/5
Marcus Holder (Kiss FM, Australia)
Detroit Swindle are on fire!
DJ Caspa (Rinse FM)
Really loving this one right here, detroit swindle deliver every time
) full support
Michael Stukes (WHCR 90.3FM Harlem, USA)
SERIOUS!
Shir Khan (Radio Fritz, Berlin/ Exploited)
top notch.
Alex Ruder (KEXP 90.3FM, Seattle USA)
topnotch single! will most likely get into Expansions this weekend on KEXP. 4/5
Stephen Hernandez (radiophoenix.org)
Heavy rotation summer jams!! Congrats! 5/5
Bruce Tantrum (East Village Radio, NYC/ Time Out NY/ RA)
The original is already pretty hot but those Detroit Swindlers are on a roll right now, and their remix is a another winner. Loving all these 3 and 4 chord house tunes that are around right now! 4/5
DJ Flight (Rinse FM)
Tidy release.
Francis Vianne (France Inter/ Addictions Radio Show, Paris)
whooo ! so good… 5/5
Bruno Dietel (Radio Fritz, Berlin/ BLN.FM)
wonderful deep detroit swindle remix!
Funk Butcher (Rinse FM)
loving the detroit swindle mix 5/5
Marcin Hubert (Polskie Radio 4/ Boogie Mafia)
Dope release. Both versions Pablo Valentino original and Detroit Swindle remix are excellent, radio and club support guaranteed, bigups 4/5
Matthias Kammel (m945.de)
Very nice tunes. We'll consider playing it in our next show.
Sam Hopkins (AccuRadio.com)
This is a stomper! The original is a stone killer and Detroit Swindle's 'perspective' is dope as hell; an absolutely phenomenal pair of tracks! 5/5
Bruno From Ibiza (Ibiza Sonica)
nice stuff , will play it
Mathieu Schreyer (KCRW, Los Angeles)
yes yes. me likey mucho 4/5
Whistla (Sub FM)
Love the Detroit Swindle remix, proper Garage vibes, not sure why you're labelling it House when it's clearly a Garage remix but hey.
Jochem Hamerling (slamfm.nl)
love the detroit swindle mix!
Karlos Sense (Ibiza Sonica)
Nice tunes..thanks. support. 4/5
Beta Boy (Freaks Radio Show, Greece)
Excellent release. Both mixes are really great, but i thing i prefer the original. Full support 4/5
Ben Starr (Unity Radio, Manchester)
detroit swindle is wicked.
Nate Goodman (reprezent.org.uk)
Yes! High energy, and rocing. to be played loud outside! 4/5
DJ Mad Ryder (reprezent.org.uk)
nice old school sound on the detroit swindle mix will be all over this
Davey Ecko (Silk City Radio, Birmingham UK)
Will get radio play from myself
Black Athena (Athens Int. Radio 104.4FM, Greece)
love this! 4/5
TMI (Radio Ara, Luxembourg)
It's all about the DETROIT SWINDLE remix !!! 5/5
Jason Pepperell (Juice FM, Brighton)
Detroit Swindle mix for me
Funkusion (groovysessions.com)
Great tune and the Detroit Swindle remix is a proper dancefloor filler. 5/5

ONLINE/ BLOGS
Thristian (Boiler Room)
great sound
Larisse (knobsmagazine.com)
super ep / http://www.knobsmagazine.com/reviews/pablovalentinowdetroitswindleperspectiveoneroomwithaview
5/5
Hutch (iD Online)
Loving the vibes on the original. Drums are sickk! Proper funky!! Great remix from the Dutchmen as well!
soundwall.it
cool
ArtDFact(artdfact.nl)
wow!
Jonny Cravenwood (weareblahblahblah.com)
liking the Detroit swindle remix
Ross Lilly (auraclesound.co.uk)
great vibes!
Andrew Duke (cognitionaudioworks.com)
Gorgeous. I'll definitely be playing this. 5/5
Nicholas (audiodoughnuts.com)
Love this release, incredibly smooth! DS remix is done well Big.
Matt Belcher (notsosilent.net)
Serious groover, and love the garage flava on the flip. great stuff
belowthelinetv.co.uk
This is a big ep, well worth the wax! 5/5
Lukas (earmilk.com)
Great remix love the bongos in the original
---