KYODAI Presents TIMES FLY
CAT No VIEW027 (digi) / VIEW020-12 (12″) / Released on May 29th / June 8th
A&R by Dairmount / Artwork by Alland Byallo
Distributed by finetunes / Prime Direct UK
---
The vinyl edition is available at Juno Records / Deejay.de / Decks / Phonica
Buy in the RWAV SHOP or click the logos below to buy the release in the following primary digital shops
---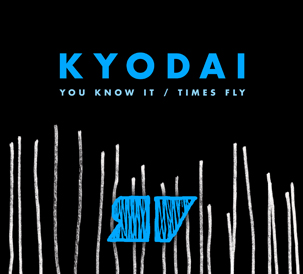 VIEW027 (digi) / VIEW020-12 (vinyl)
KYODAI – TIMES FLY
A Kyodai / Times Fly
B Kyodai / You Know It
+ Kyodai / Sacred Ritual * Only available in digital format *
Written, mixed & produced by Kyodai, Berlin
A&R by Dairmount
Mastered by Lynn Petrin @ Ebony Cuts, Hamburg
Distributed by Prime Direct UK and Finetunes
After 1 good year of hiatus & celebrating its 6th year in the game, Room With A View is back in full effect with a very special 3 tracker by Kyodai, a duo that has been gathering serious momentum after highly celebrated releases on Local Talk, Exploited, Freerange or Pokerflat to name a few.
The famous brother pair has proven to be working hard in the last years recording, remixing & touring extensively. Reknown for their energitic live performances & to have deliver tracks & remixes that have been played by the Who's who of the global House scene, Kyodai have decided to choose RWAV to deliver some very personal tracks.
In 2013 already, they appeared on our label with the uplifting "What You Give" that became on of the key tracks of the live sets of the last 2 years. Enjoying a long 15 years friendship with Dairmount and a common love of hybrid tracks loaded of musicality, Javi & Luis decided to lock themselves in studio last winter inspired by the idea to be the artist chosen to relaunch the label in 2015. The title Times Fly symbolises the longevity of friends that went through 2 decades of creation & exchange. And the result has been as surprising as the pair shaped up a very hypnotic & tribal red line with these new tunes.
The title track "Times Fly" has been recorded in a few hours on a full moon night in their berlin studio, managing to induce a perfect balance of melancholy & tribal rhythms. Quite different of their usual sound signature, the track got everything to conquer the hearts of many different dj's & listeners this summer. "Sacred Ritual" is born of the idea of creating a special tool for Panorama Bar (where the pair just played before their studio time in january) and focusing on the power of drums & percussions. Finally, "You Know It" is reminiscent of their classic Kyodai sound epitomised by their hit Breaking with filtered basslines & catchy samples. The track has been one of the big crowd pleasers of their recent live sets.
---
SELECTED FEEDBACKS
Laurent Garnier
"Hammering You Know It for long months already"
Sasse
"pretty dope shizzle from the spanish masters"
Lay Far
"Love the release, especial track 3! Go RWAW, GO!"
Ame
"Sacred Ritual is the one"
Chris Berg
"Welcome back! I love this release, right Up my alley!"
Pezzner
"Nice to see you guys are back on the scene. This is a gorgeous release. Love it!"
Alland Byallo
"Very nice. i like 'you know it' and 'sacred ritual', especially the latter"
Jimpster
"Lovely new music from Kyodai! In fact, my favourite productions of there's in a while and nice to see RWAV back up and firing on all cylinders! All tracks are super strong but I think You Know It will be my choice for playing out"
Toshio Matsuura
" Killer stuff"
Severino (Horse Meat Disco)
"This is great! Love it! super cool vibe"
Tiger Stripes
"Really cool ep. Sacred Ritual is right up my street"
Michael Rütten
" good to hear something slighty different by the kyodais ! on your label ! sacred ritual could be my fave on here"
Phonogenic
"So glad to have RWAV back! Great sounding productions from Kyodai guys again. "You Know It" seems like my fave"
Oliver Gehrmann
"i really think that this is the most interesting release of Kyodai so far. You can hear some recognizing Kyodai sounds, but they are arranged in such a nice and evolving way. This release works as a whole, the tracks seem to coalesce, which is amazing.
Full support from my side for this release"
Rainer Trüby
"thanks so much for this! I knew already You Know It in a earlier version…diggin´the other tracks as well. Full support from the Trueby!"
Atjazz
"Amazing work!"
Giom
"This is awesome mate, will support!"
Ingo Sänger
"What a great release, Phil! Kyodai in a very deep & tribal style! Perfect for the upcoming summer! Top release!"
Shir Khan
"Enjoying the quirky romantic touch of these. a little different to what you expected from the guys but this is what i like about them. they are original and dont follow any trends and do their own thing with each record"
Art Of Tones
"very strong release from the kyodai brothers, and something slightly different from their previous releases"
LeftO
"Played on my show last night"
Master H
"Superb release ! What a way to restart one of my fav labels. Super classy opus delivered by the talented Kyodai , they catch me again with this one . Special mention for "You know it"
Charles Webster
"super e.p. All traxx very nice…'you know it' is my fave here"
Beaner
"times fly is prob my fave. welcome back to the frustrating and rewarding world of music releasing"
Wittes
"many thanks !!! highly appreciated .. will play this at tresor friday"
Asa 808
"Lovely Stuff"
Corrado Bucci
"As i told to Luiz i really love this new project ! Especially … "You Know It" Full support from Italy"
Snacks
"Favorite song – You know it! Great vibe!"
Jack Gorton
" Loving RWAV & Kyodai"
Turbojazz
"You know it" for me is the perfect balance of this ep!"
Maxxi Soundsystem
"You Know it is nice"
Tom Trago
"Dope"
Peter Kruder
"This is one hell of a strong 12″. Kyodai on a roll. Love all the tunes and will play them"
Tensnake
"Nice EP"
Shinedoe
"Full support on You Know it"
Danny Tenaglia
"Sounds Good!"
Davide Squillace
"You Know it is dope"
John Digweed
"Time Fly for me"
Altern 8
"Nice 3 tracker – not as big as breaking but 'you know it' comes close"
Sello
"kyodai as always…awesome. i like the hypnotic thing and the heavy bed of bass in "Times Fly"…and that is what i call a groove -> " You know it" very cool ep, will play that shit"
Olderic
"Killer"
Pascal Hetzel
"Awesome"
Vidis
"I'm really feeling the organ driven You Know It"
Pablo Sanchez
"Really happy to see RWAV back in business and with a such a solid release. The 3 tracks sound really great, as you would expect from the Kyodai brothers. Will play the hell out this EP, full support and good to have Room with a View back! This is an awesome EP! it will my Sonar secret weapon"
Bogdan taran
"Congratulations on label re-launch. I already listened to previews in your post on Facebook anfd liked the music very much: all three tracks held in one deeper underground house style, going from softer to tougher vibe. I like signature organ in Time Fly and You Know It. My fav is You Know It! Sacred Ritual is also hypnotising me bu it's groove. Quality!"
Giovanni Damico
"it's a banger ep, "you know it" is my fav here!"
Thatmanmonkz
"All heavy somewhat predictably, and, 'You Know It' is a bomb!"
Daniel Dexter
"Perfect"
At One
"Great work from the guys as always. Standout for me has to be Times Fly! Dope groove, right up my street! "
Lars Behrenroth
"Killer release"
Also played by Gilles Peterson, Roberto Rodriguez, the Black Madonna, Sierra Sam, Eddy Ramich, Souldust, Ouer, Walker Barnard, Musumesci, The Checkup, Felix Cage and more…