KID GRIMM Presents MONKEY DISCO
CAT No VIEW030 (digi) / VIEW023-12 (12″) / Released on October 31st 2016
A&R by Dairmount / Artwork by Alland Byallo
Distributed by finetunes / Prime Direct UK
---
The vinyl edition is available at Juno Records / Deejay.de / Decks / Phonica / Oye Records
Soon Available in our RWAV SHOP or click the logos below to buy the release in the following primary digital shops
---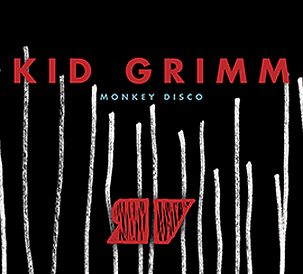 VIEW030 (digi) / VIEW023-12 (vinyl)
KID GRIMM – MONKEY DISCO
A Kid Grimm – Monkey Disco
B Kid Grimm – Monkey Disco (Charles Webster Perspective)
Written, mixed & produced by Alland Byallo
A&R by Dairmount / Mastered by Atjazz / Mixed by Sasse
Distributed by Prime Direct UK and Finetunes
Following the widely acclaimed releases of Fouk & Kito Jempere, our autumn release is nothing but a strictly family affair. Kid Grimm is indeed a brand new alias of our dear friend Alland Byallo, longtime collaborator of the label both for his production & awesome graphic works. With an impressive discography crossing over quality imprints such as Third Ear, Bad Animal, Real Tone or Rawax, the San Francisco born and Berlin resident always got something exciting coming out of his machines.
Being always one of the very first lucky ones to listen to his fresh material, Dairmount discovered one year ago a bouncy little tune called Monkey Disco. He instantly felt in love with the hybrid mixture of catchy "bumpty bump" basslines & chords and the lose synths wizardy of Alland. A surprisingly timeless vibe that could have been blessed by an imaginary collaboration between Derrick Carter and Floating Points.
It took one more collective mixing session at Sasse's Blackhead studio and the expert mastering of Atjazz to put the final touch to this very first Kid Grimm single.
And as great minds never come alone, Dairmount offered to one ilustrous label fan to revamp Alland's track. The man who instantly approved the original was none other than Deep House legend Charles Webster and he delivered amazing perspectives reminiscent of the universe of abstract House geniuses as Dj Koze or Pépé Bradock.
An absolutely delightful package for all connoisseurs…
---
What DJ's Say
Ian Pooley (Pooled, Innervisions)
The Charles Webster Afrospace Dub is dope !!
Ewan Pearson (Kompakt)
Terrific release – the original is beautiful and the Charles Webster mixes are the best thing I've heard from him in some time…
X_1 (Beat X Changers)
I can imagine the Webster mixes doing serious damage on the floor…
Ingo Sänger (Farside, Byte FM)
Charles did it again! Both bersions are great, but the dub is my fave here. Superdope and atmospheric. Killer!
Thatmanmonkz (Shadeleaf Music, Classic)
Lovely stuff as always Phil! Really feeling the original and CW's dub
Rainer Trüby (Compost)
Really feeling this release a lot, subtle & deep. I like the original as much as the CW remixes.
Loz Goddard (Razor'n'Tape, Dirt Crew, Secret Reels)
Nice release here, liking the chilled synthy touches of the original and Charles Webster Perspective. Cool stuff. Should find a place into my radio sessions for sure.
Red Rack' Em (Wolf Music, Bergerac, Smugglers Inn)
Played the original in the Smugglers Inn Show once I got it. Great Stuff!
Musumeci (Connaisseur)
Super quality by RWAV as always!
Toshio Matsuura (UFO, Brownswood)
Both are very good love to play on my radio show
Alex Barck (Jazzanova, Sonar Kollektiv)
Very cool new EP. Will play this for sure…
Fred Everything (Lazy Days, Defected)
Super stuff! Really into the original. Will include directly in my podcast…
Leigh Morgan (Fancy Human)
Lovely trippy hypno house, perfect for me the original mix. Charle's mixes are predictably great also, fine work on this, will support on the show for sure.
Kiko Navarro (Local Talk)
Beautiful release, the original is very good and Charles has done an amazing work as usual…
Nick V (Mona Music)
Classy original, Super bouncy!
Swirl People (Aroma)
Love the original, good late night Food inspired spaced out house that keeps going for ever and ever. Kudos for the Charles mix too, rarely hear a bad remix from this chap!