KITO JEMPERE Presents I'M SAVED
CAT No VIEW029 (digi) / VIEW022-12 (12″) / Released on April 29th 2016
A&R by Dairmount / Artwork by Alland Byallo
Distributed by finetunes / Prime Direct UK
---
The vinyl edition is available at Juno Records / Deejay.de / Decks / Phonica / Oye Records
Available in our RWAV SHOP or click the logos below to buy the release in the following primary digital shops
---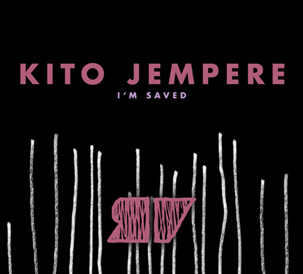 VIEW029 (digi) / VIEW022-12 (vinyl)
KITO JEMPERE – I'M SAVED
A Kito Jempere – I'm Saved
B Kito Jempere – Jun
Written, mixed & produced by Kito Jempere
A&R by Dairmount / Mastered by Atjazz
Distributed by Prime Direct UK and Finetunes
"You should all know by now that Room With A View releases are always about presenting you outstanding individuals having a unique approach of sound, aesthetics and of their musical roots" emphasises Label Boss & ambassador Phil Dairmount. Beyond any trend or hype, he likes to stand strong to his philosophy : "I like to welcome music makers with attitude & honesty in our humble label shelter. Kito Jempere is no exception to this golden rule"
Hailing from St Petersburg in Russia, Kito Jempere has been recognised by his peers and a wider global audience thanks to an impeccable serie of releases in recent years. It is no surprise neither that Dairmount spotted him already in 2013 with his Confusion EP on Jimpster's Freerange, followed by his Objects album on his own Fata Morgana imprint & solid releases last year on Dirt Crew & Let's Play House. His tracks have been remixed by luminaries as Nachtbraker, Jacob Korn, Roberto Rodriguez, HNNY, Juju & Jordash, OOFT or Ruf Dug…
"Kito & me met in Montenegro last summer at the amazing Southern Soul Festival through our friends Eddy Ramich & Lay-Far. We both played as part of the 4 days event & developed a deeper relationship. Besides our obvious common musical grounds, we both became fathers nearly at the same time, him of Theo, me of Thea. This became our red line in our exchanges" remembers Phil with a grin on the face.
Following his new fatherhood and an important HD crash which led to the loss of many musical works, Kito came back from Montenegro and sat down in his studio, starting from scratch, highly inspired. The 2 tracks you hear today are the results of these sessions of total freedom without prepared sound banks or samples. Kito & Phil took the time last autumn to let the tracks "breathe" and exchanged very naturally on their arrangements & mixdowns, till Kito finalised them in the silent snowy landscapes of the Russian country side in december.
---
What DJ's Say
Ingo Sänger (Farside, Byte FM)
Top notch unique release, no fave here as I like both the tribal & raw "I´m Saved", but also the soulful beauty of "Jun"
Nachtbraker (Dirt crew, heist)
This is gold man! I played it last weekend.. and it was gooooood! love this!
Thatmanmonkz
Cracker of a release here! 'I'm Saved' is me all day, and, love the depth of "Jun'!
Atjazz (ARCO)
Very original and incredibly well crafted music!
Jimpster (freerange)
Sounds really lovely! Fresh and forward looking productions in Kito's own unique style which will work nicely on the dance floor too. Sold to the ginger at the back!
S3A (S3A, concrete, Rinse FM)
"I'm Saved" is the shit for me. Will play it tonight on my radio show on Rinse Fm France
Luke Solomon (Classic, MFF)
Love this
Rainer Trüby (Compost)
I need this badly. This is fantastic. loving both tunes!
Loz Goddard (Razor'n'Tape, Dirt Crew, Secret Reels)
Lovely stuff from Kito. Pretty eerie feel on that 'I'm Saved' track, really liking that one. Other one is nice too but my pick is definitely the A side cut.
Frits Wentink (Wolf Music)
Sounding really good…
Red Rack' Em (Wolf Music, Bergerac, Smugglers Inn)
Will play I'm Saved tomorrow in the Smugglers Inn Show. Great Stuff!
Musumeci (Connaisseur)
Another gem from Room With A View! Jun is my favorite, really a great track…
Toshio Matsuura (UFO, Brownswood)
Both are very good love to play on my radio show
Mike W (Kolour LTD)
Another great EP on RWAV…
Kim Brown (Just Another Beat)
Great release. Really like Jun
Detroit Swindle (Heist)
Vibey Stuff! Great!
Charles Webster (Miso)
Sounds great….Very funky and takes it's time to build…
Leigh Morgan (Urbantorque)
I'm a fan of Kito's music, is great stuff as usual, this release is no different, great jazzy drums and grooves, I'm leaning towards the deeper 'Jun' on this one, but both cool cuts! Will certainly play on the show
Bogdan Taran (Dance Box)
I like the smooth vibe of title track "I'm Saved" – especially that gospel vocals in it, which gives a track a real soulful underground vibe
Lesale (Luv shack)
Lovely lovely soulful gospel house, we all need more of this in our lives! both tracks are playful and funky, love it